For a modern update, SYNLawn Chesapeake Bay provides homes in Virginia, Maryland, and Washington D.C. with high-quality indoor artificial grass to help reimagine interior spaces, including your home's game room. Our indoor synthetic turf stands out from typical surfaces like carpet or tile and can offer a more enjoyable area for your kids and pets to play in. So if you have been daydreaming about a unique game room that will have the entire neighborhood talking, consider indoor artificial grass! At SYNLawn Chesapeake Bay, we offer multiple products that can help make your game room a unique, attractive, and easy-to-maintain space for the whole family.
How Artificial Grass Improves Your Living Space
At SYNLawn Chesapeake Bay, we offer superb quality in our faux grasses. Our artificial grasses are attractive, durable, and built to last. As a result, any room in your home, including a game room, can be immediately greener and brighter.
Some of the considerable perks of having indoor artificial grass in your home's game room include:
Durability
The game room in a home is a great place for families to play ping pong, billiards, indoor golf, foosball, air hockey, video games, and more. This space often experiences a wide variety of games and activities. Unfortunately, many of these activities can bring plenty of wear and tear to your game room's flooring. However, with our indoor artificial grass, it can withstand high foot traffic and wear and tear. This provides you and your family with a highly durable surface, so instead of worrying about damaging wood floors or carpets, you can focus on enjoying family time!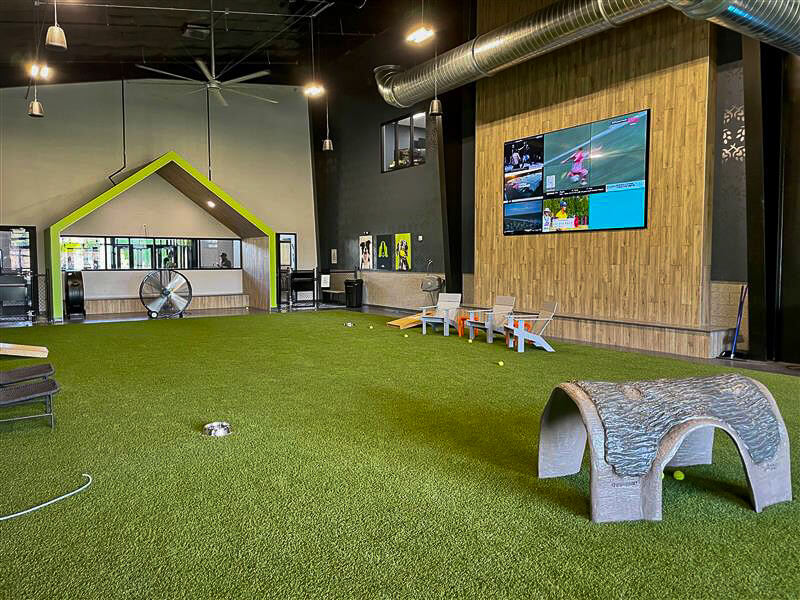 Adding a Pop of Color
Our wide variety of synthetic grasses can help provide a splash of color and contrast to your game room. This can not only help your game room stand out from other spaces in your home, but it can also add an amazing appeal for children, teens, and pets, who will be mesmerized by the ability to have an element from the outdoors inside their game room.
Easy Upkeep
Maintaining indoor synthetic turf is simple! At SYNLawn Chesapeake Bay, our residential artificial grass requires little work to keep in good condition – whether installed inside or outside. Unlike traditional grass, our synthetic surfacing does not need to be watered or trimmed. Instead, it maintains a consistently green and trimmed look without constant time and effort from homeowners, making it an incredibly low maintenance surface to install in a game room.
Safer
Children and teens often love spending their time in a home's game room. Because of this, it is crucial to make your game room as safe as possible. Thankfully, our high-quality indoor artificial grass can help! Unlike carpet, tile, or wood flooring, our synthetic turf is soft and padded, which can help absorb the impact of running feet or even potential falls. As a result, children, teens, and adults enjoying our indoor artificial grass are safer, especially from falls.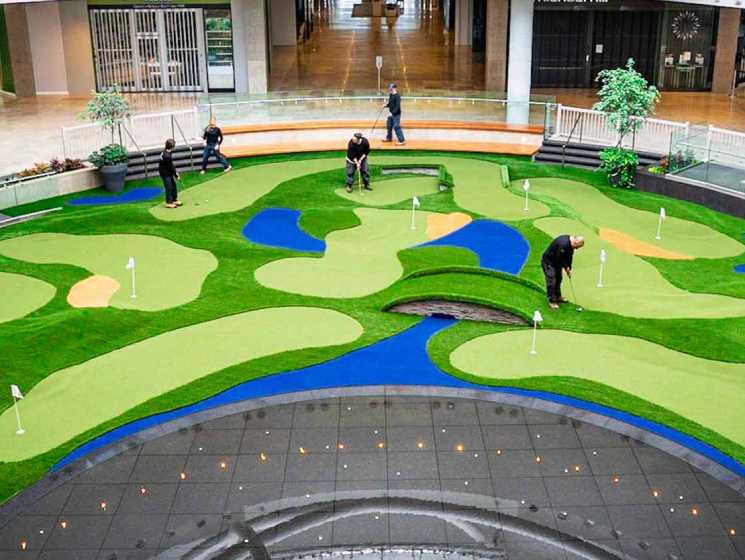 Compliments Indoor Plants
Whether you have a green thumb or prefer decorating with artificial plants around your home, having indoor artificial turf can help accentuate the picturesque and nature-esque environment you created. Imagine an indoor green space made more inviting with our ultra-realistic indoor artificial grass. Together, our synthetic turf and your indoor plants can bring the best parts of nature into a game room without many of the hassles of the outdoors.
Pets Love It Too
Indoor artificial grass provides a comfortable surface for the whole family to enjoy in a game room, including pets. Like children, teens, and adults, pets also enjoy the soft texture of artificial grass. They too can appreciate being able to run, jump, play, or relax on high-quality synthetic turf. Especially turf that is installed indoors and avoids the outdoor weather, insects, and more!
Learn More About Indoor Artificial Grass Today!
At SYNLawn Chesapeake Bay, our indoor artificial grass is an ideal choice for game rooms and more in Maryland, Virginia, and Washington D.C. Our synthetic turf is durable, adds color and a sense of nature, and is safer! It is also easy to maintain, allowing you to have more time to spend with your family playing games in the game room.
Contact us today to learn more about our first-rate indoor artificial grass or get a quote!