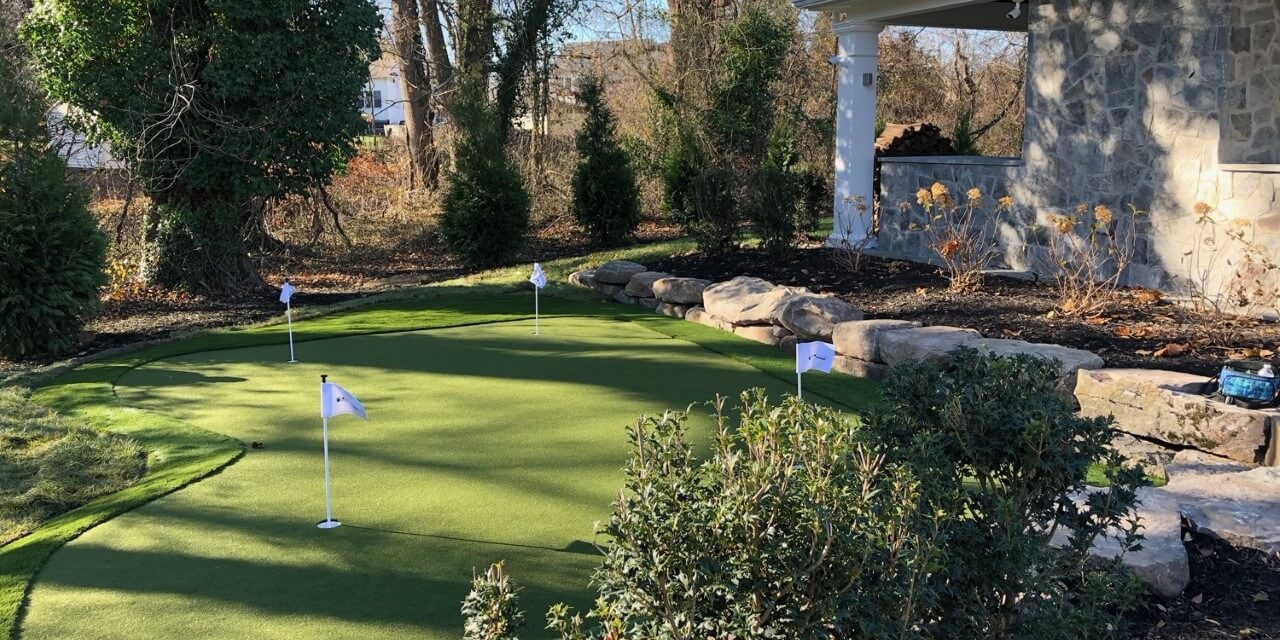 Artificial Grass & Golf Greens in Richmond, Virginia
Are you considering installing artificial grass in Richmond, Virginia?
SYNLawn Chesapeake Bay has mastered the design and installation of synthetic artificial grass for lawns and putting grass in Richmond, VA. Being an industry leader for decades, our team has honed its skills to create truly remarkable artificial putting greens, golf turf, playground grass, pet grass, and more.
We have an impressive record of exceeding customer expectations by designing exclusive putting greens for private and commercial use. In addition, our team of turf experts has worked on some of the most notable golf projects in Richmond, VA.
Richmond, VA, is one of America's oldest cities. With a population of over 200,000, it is also one of the most thriving cities in the Chesapeake Bay area. There is a deeply-rooted culture of golf, evidenced by iconic golf courses such as the Lake Chesdin Golf Club, The Federal Club, Meadowbrook Country Club, and more.
Additionally, there has been a move towards artificial putting greens, and SYNLawn Chesapeake Bay is at the forefront of both sales and installation. Our company garnered tremendous expertise in the design, sale, and installation of artificial grass for a variety of commercial and residential applications. See our photo gallery here.
GET A FREE CONSULTATION
"*" indicates required fields

Benefits of Artificial Putting Greens
One of the primary benefits of artificial grass is its low maintenance. With artificial golfing turf, you can reclaim your time by eliminating tedious and repetitive landscaping work such as lawn mowing, watering, seeding, nurturing, edging, pruning, and operating dangerous lawn mowing equipment. There is also the financial toll of purchasing and running lawn equipment with traditional sod lawns. The only maintenance you need to perform is the occasional raking of dead leaves (if your new artificial grass lawn is situated with overhanging tree branches) and hosing the blades down with water.
As a sport, golf demands impeccable turf. Natural grass can suffice, but it requires heavy maintenance to sustain its quality. Even then, it is susceptible to damage by heat, water shortages, and foot/golf cart traffic. This is not the case with artificial turf. It remains pristine year-round regardless of weather and use. Overall, this reliability and consistency make it the ideal choice for golf.

Artificial Turf for Playgrounds
Artificial grass is incredibly durable and safe for both children and pets. It's common knowledge that playgrounds are places of intense activity, and safety is always a concern. Synthetic playground turf is made with additional layers of padding that act as a soft cushion, safeguarding kids from injury. 
Artificial Dog Grass & Pet Turf
Our synthetic turf is also ideal for pets. SYNLawn Chesapeake Bay has designed and installed pet turf and dog grass in Richmond, VA, that is both functional and beautiful. Today's popularity of artificial turf for pets stems from its many favorable features, especially its durability. Unlike natural grass, synthetic turf is resistant to digging and clawing, helping to keep pets safe, preventing digging and escape from the yard. This resilience, coupled with its excellent drainage features, prevents water and pet urine from collecting and causing unpleasant odors. It also ensures your pet doesn't run into the house with muddy paws after a summer storm. Finally, since artificial pet turf is inhospitable to pests, fleas, and allergens, your pet can play and run in an allergy-free environment.
Commercial Turf
Our commercial-grade synthetic grass is highly durable and withstands heavy traffic from customers. If you're ready to make the transition to high-quality artificial turf, we assist you in making your storefront look polished and distinct from your competitors. In addition, our commercial customers experience a rapid return on investment due to significantly reduced water and maintenance costs.
Receive a Complimentary Consultation with an Expert
The experts at the SYNLawn Chesapeake Bay office are standing by to answer your questions. If you're ready, we can schedule a free consultation for your artificial grass project in the Richmond area. Contact us today to schedule an appointment.