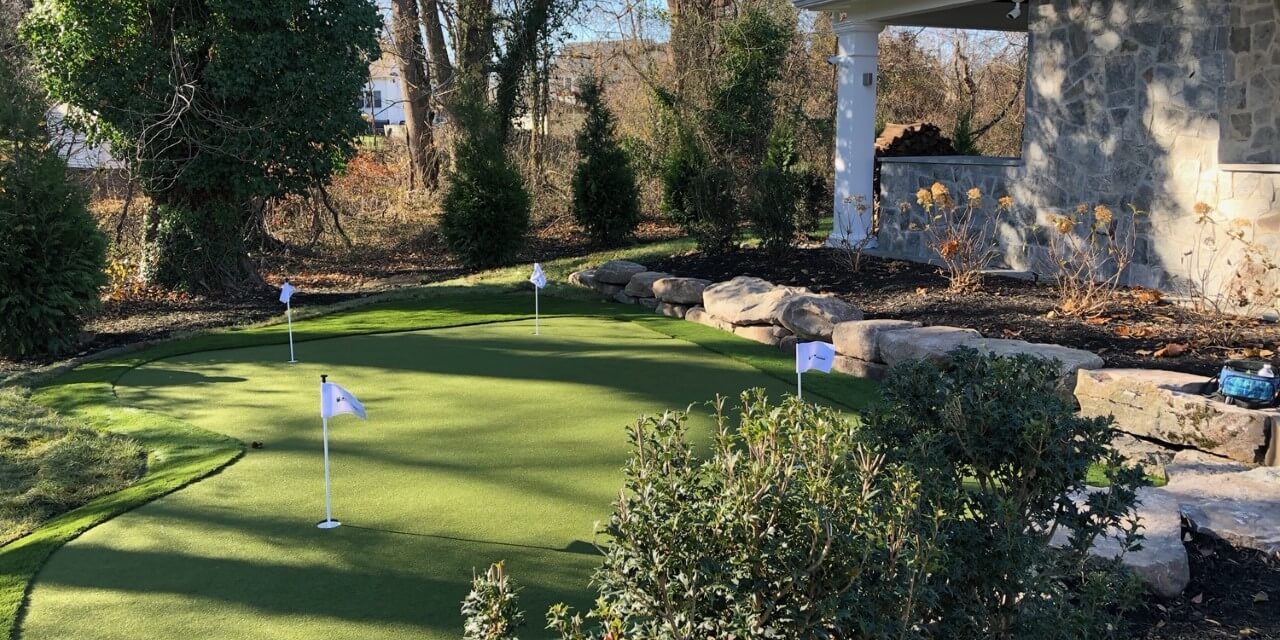 Artificial Grass Installation in Potomac, MD
If you're looking for artificial grass in Potomac, MD, SYNLawn Chesapeake Bay has been a reputable vendor with over 40 years of experience in the industry. Our turf not only saves you money and precious resources such as water and affords you more free time to do the things you're truly passionate about.
SYNLawn Chesapeake Bay has designed and installed hundreds of synthetic grass projects, both for residential and commercial applications. Our artificial grass solutions are perfect for kids' playgrounds, pet play areas, putting greens for golfing, and so much more.
Potomac, MD (named after the Potomac River), is one of the best places to live in the state of Maryland. The weather here is known for chilly winters and hot, humid summers. These sharp weather contrasts present a daunting challenge when it comes to maintaining a healthy looking grass lawn, which isn't an issue for synthetic turf. Our artificial grass solutions are durable and long lasting, capable of withstanding season after season of Maryland's harsh weather.
SYNLawn Chesapeake Bay has accrued a lot of experience as a leading provider of artificial turf solutions in and around Potomac, MD. Check out our gallery of beautiful completed projects.
GET A FREE CONSULTATION
"*" indicates required fields
Get Your Weekend Back
A regular grass lawn can take a surprising chunk of time out of your weekend. To keep a traditional lawn looking its best, you'll need to be on top of all the lawn care activities. These include fertilizing, watering, seeding, mowing, and keeping track of all the brown spots and bald patches. When you factor in all of these tasks, there is hardly any free time left for you to enjoy what you truly love. Artificial grass is the simple answer to this. Since it requires virtually no maintenance, Potomac residents can have additional free time to indulge in their true passions.
An amazing feature of artificial grass is its low maintenance. Upon installation, you'll never have to wonder whether it is time to fertilize, mow, or water your lawn. Since our synthetic grass is made to be extremely durable, it maintains its luster for years to come, with hardly any effort needed from you. In fact, the most you'll ever need to do is blow or rake leaves off it every so often and rinse it once in a while. Besides that, it will look as if you keep your lawn in perfect shape and take extraordinarily good care of it.
On top of eliminating pesky chores that keep you from truly enjoying your weekend, a synthetic grass lawn also saves you money. It will no longer be necessary for you to spend money on things like fertilizers, lawnmowers, watering your lawn, and more. So besides getting time back in your weekend, you'll also have more money in your pocket to spend however you wish.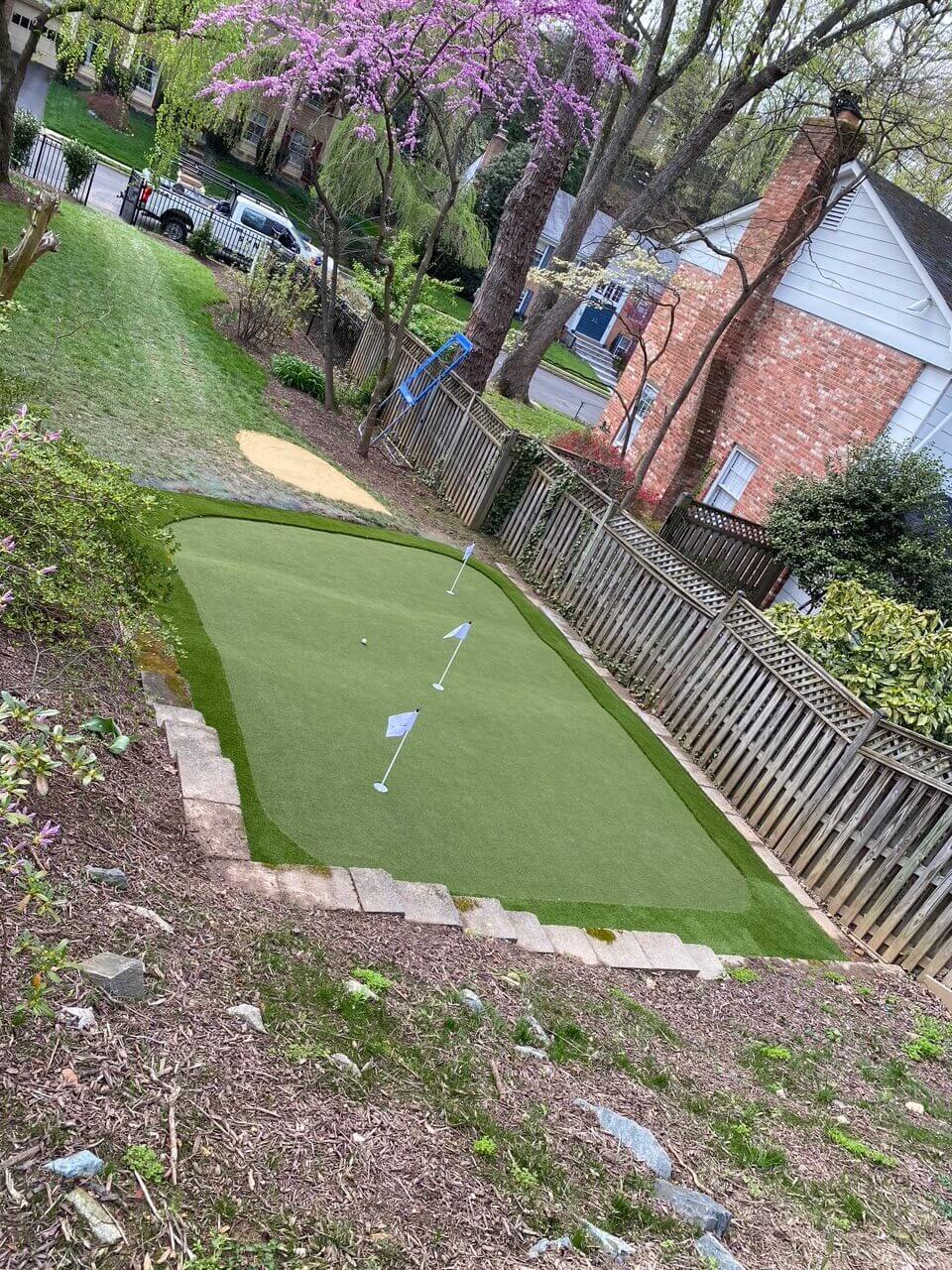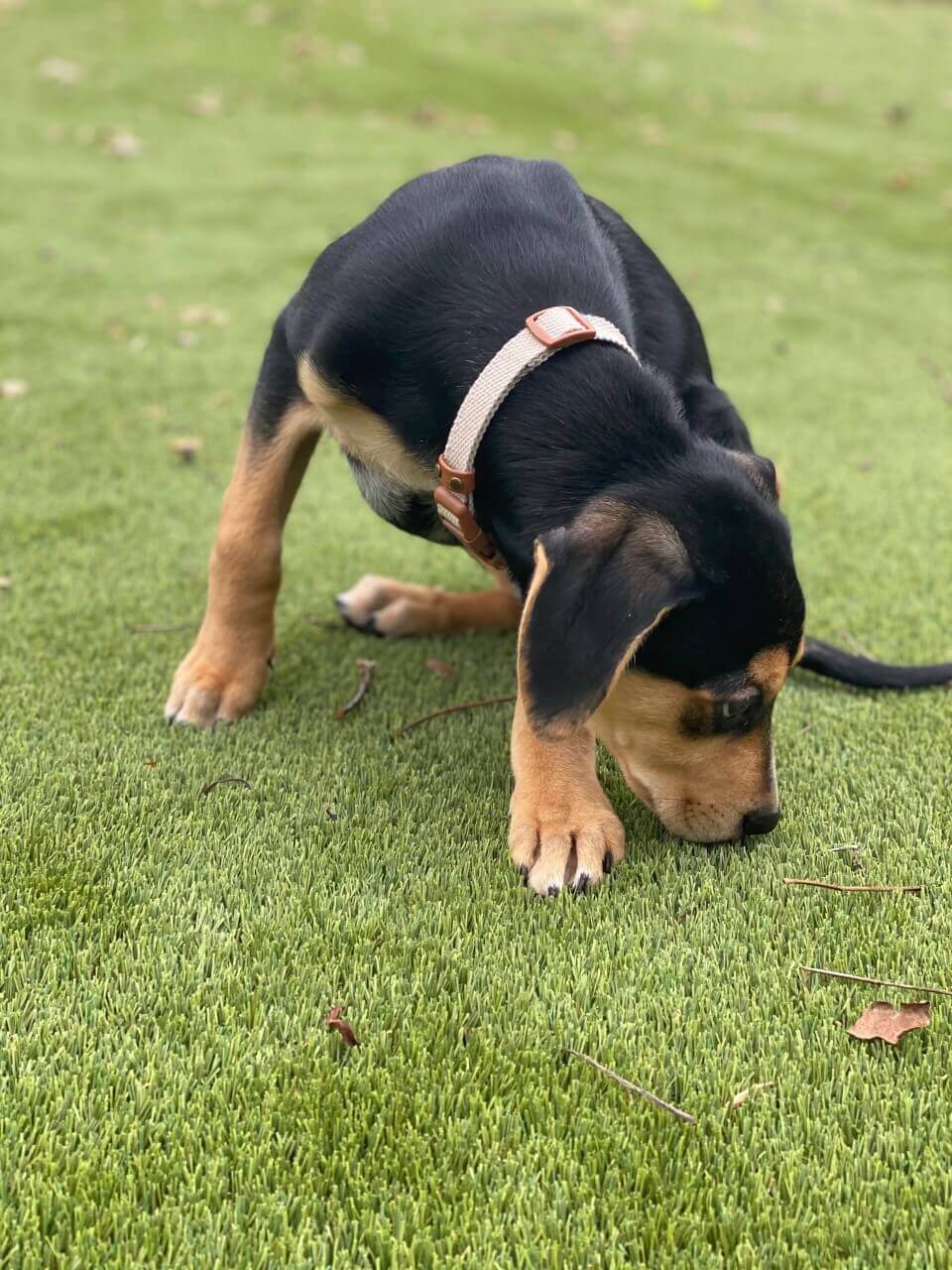 Perfect For Pets, Playgrounds & Putting Greens
Artificial grass is ideal for pets, given how it is built for durability and safety. Unlike regular grass, which pets can dig into, artificial pet grass will prevent any digging attempts. This means less of a chance of your pet digging out of your yard and escaping. Artificial dog grass is also able to effectively disperse heat, thus cooling itself down even during the hottest days, meaning it will be comfortable for your furry friend to run around on.
Artificial playground turf designed by us is built with safety as a top priority. Because it has extra padding, it is able to lessen impact injuries from falls. Also, because it is made to be sturdy, you will find that its structure won't change over time like other playground materials such as wood chips or rubber fill will. This means it will always be up to safety standards as well as always look tidy.
If you're an avid golfer, then having a backyard putting green right outside your house is something you'll appreciate. Artificial golf grass made by us not only looks fantastic, but it functions just as well as the golf grass that the pros use. A synthetic golf green right in your yard will also allow you to avoid having to travel all the way to a golf course just to play.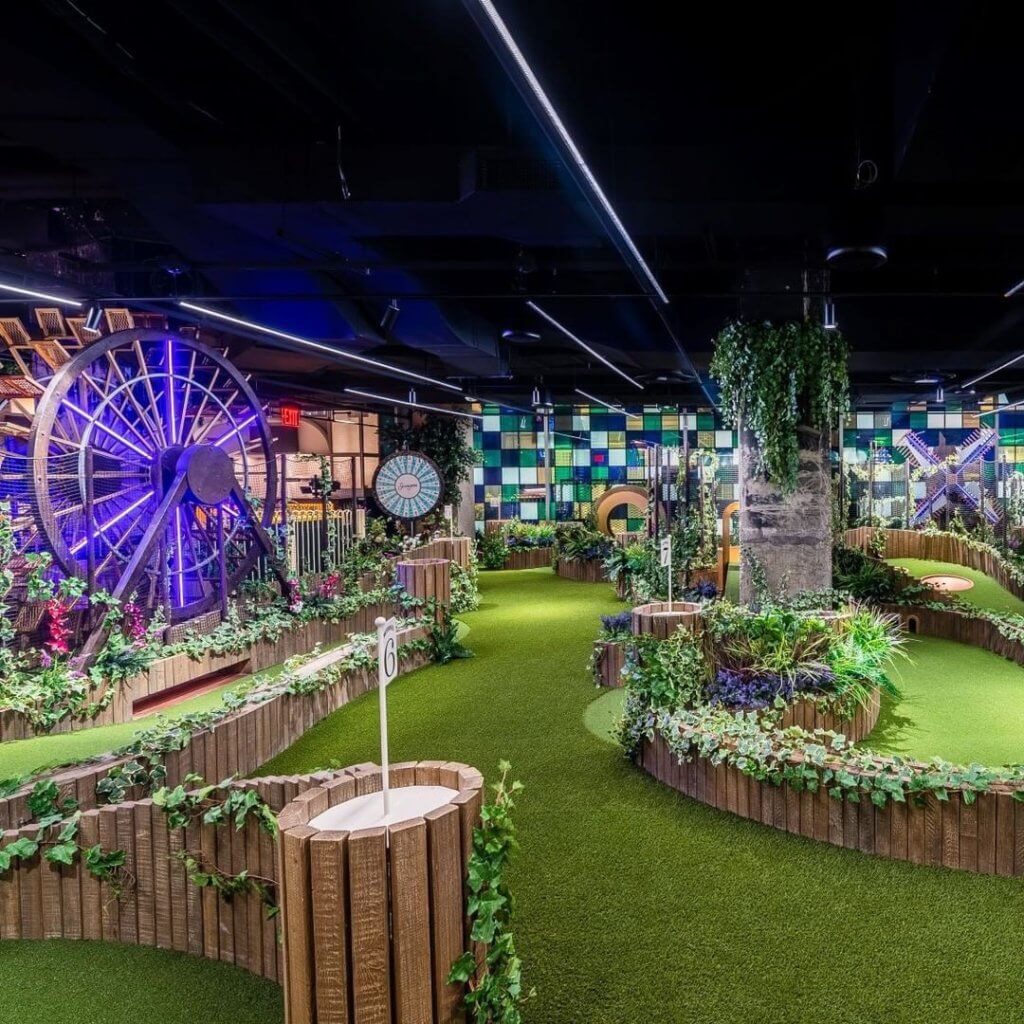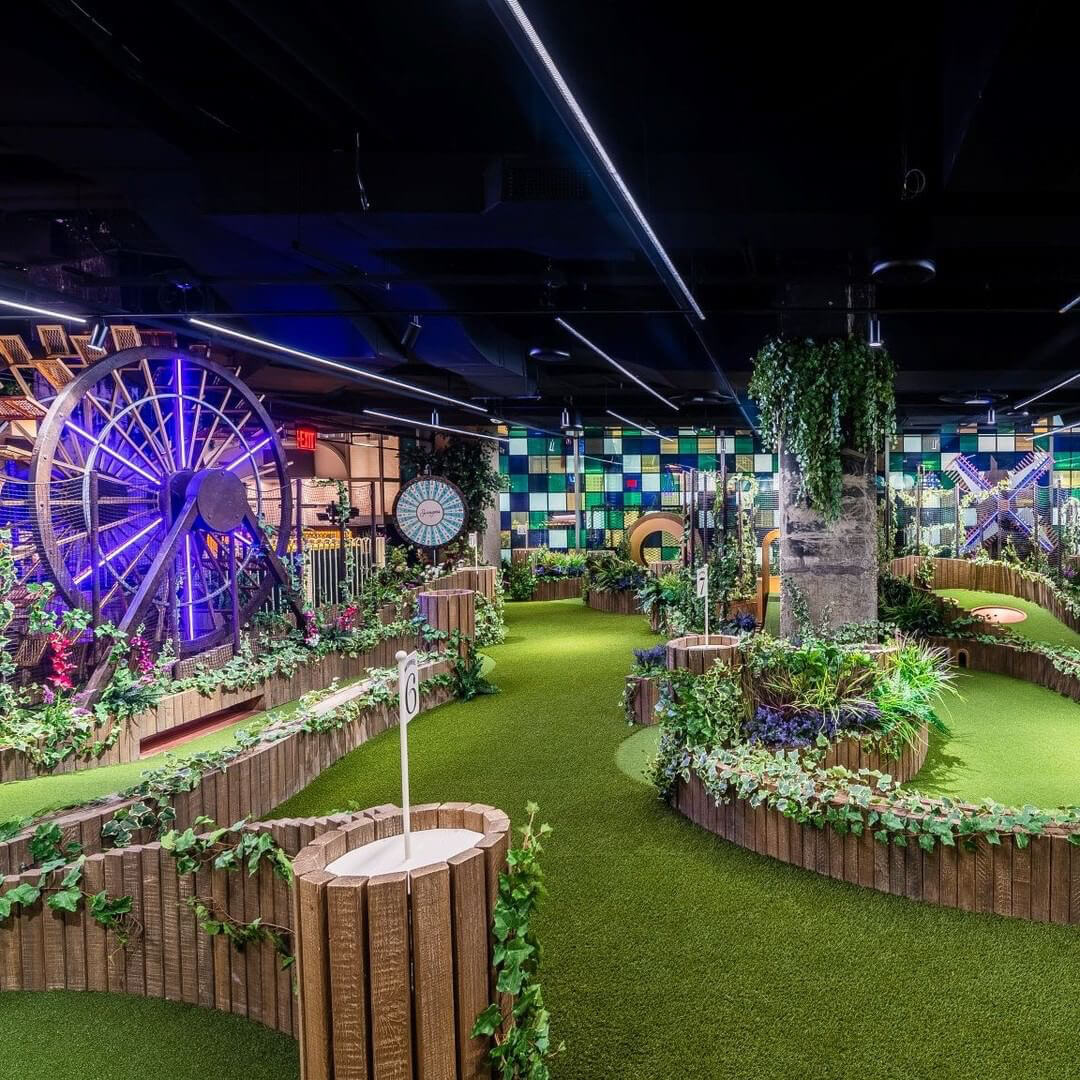 Business Fronts & Commercial Spaces
Commercial artificial grass can be a boon to any business, as it helps you to stand out from the competition. While other businesses may be turning away customers with a lawn covered in holes, bald patches, and brown spots, that won't be the case at all with your lawn. Your artificial grass lawn will look lush, green, and beautiful, which will help to draw customers into your business.
And besides looking attractive, commercial artificial grass can also save your business money. Since artificial turf hardly needs any effort on your part to maintain it, you'll be saving money on things such as your water bill, gardening equipment, fertilizers and pesticides, and more.
Get A Free Consultation With An Expert
Now that you're familiar with all of the benefits of artificial grass and you want to install it for yourself contact us here. Our expert staff will be happy to answer any questions you have and find the best artificial turf solution for your needs.