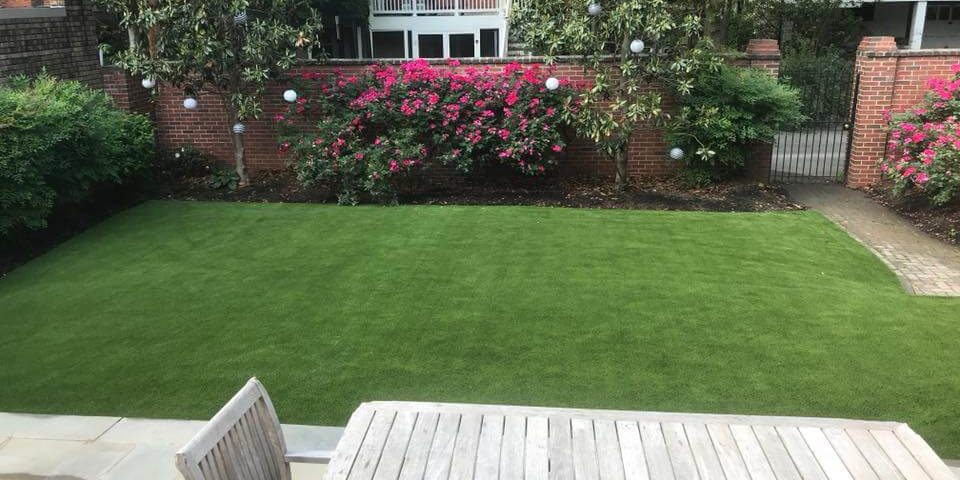 Baltimore, MD Artificial Grass
Researching artificial grass installation in Baltimore, Maryland? Consider the expert team at SYNLawn Chesapeake Bay. With over 40 years of experience in the construction industry, you will be hard pressed to find a company with more experience and expertise with artificial turf design and installation.
We have installed hundreds of artificial grass projects for residential and commercial applications in and around Baltimore and the surrounding cities of Maryland.
Baltimore is known for it's hot, humid summers and cold, wet winters. In this type of climate it can be difficult to keep a nicely manicured traditional grass lawn all year around, it takes a lot of maintenance, time and money. With an artificial turf lawn installed by SYNLawn of Chesapeake Bay your home will always be one of those highly maintained yards on the block, all year round!
Get Your Weekend Back
As we established, it takes a lot of time and effort to grow and maintain a beautiful grass lawn in Baltimore, whether residential or commercial. One of the biggest attractions to artificial grass is the little to no maintenance involved, no more weekends spent sweating and fighting your lawn equipment. Not to mention your wallet taking a hit with constant lawn equipment maintenance, irrigation repairs, and the list goes on.
Artificial grass is about as close to set it and forget it as you can get to having a gorgeous lawn in your backyard. All you need to do is rake or blow any leaves off and give it a wash every now and then.
GET A FREE CONSULTATION
"*" indicates required fields

Perfect for Playgrounds, Pets & Putting Greens
Artificial grass is extremely durable, yet safe for pets and kids. It is perfectly suited to many applications, some of the more popular ones are playground turf for your children's play areas, pet and dog turf for dog areas/dog runs, and for the golfer in the family a backyard putting green that will rival the local golf course.
SYNLawn of Chesapeake Bay can install synthetic turf for many different applications, give us a call to find out if your project will be a candidate for artificial grass. We have even installed our turf on roof tops, patios and for sports fields.
Business Fronts & Commercial Spaces
Our commercial grade artificial grass is highly durable and can stand up to heavy foot traffic. We can help your store front look polished and stand out from your competitors.
We often find our commercial customers have a quick return on investment with drastically reduced water and maintenance costs.
Get a Free Consultation With An Expert
The friendly experts at the SYNLawn Chesapeake Bay office are ready to answer your questions, and if you're ready we can provide you with a free consultation on your artificial grass project in the Baltimore area.
Call us today at 443-376-6787 or send us an email and we'll get back to you right away!