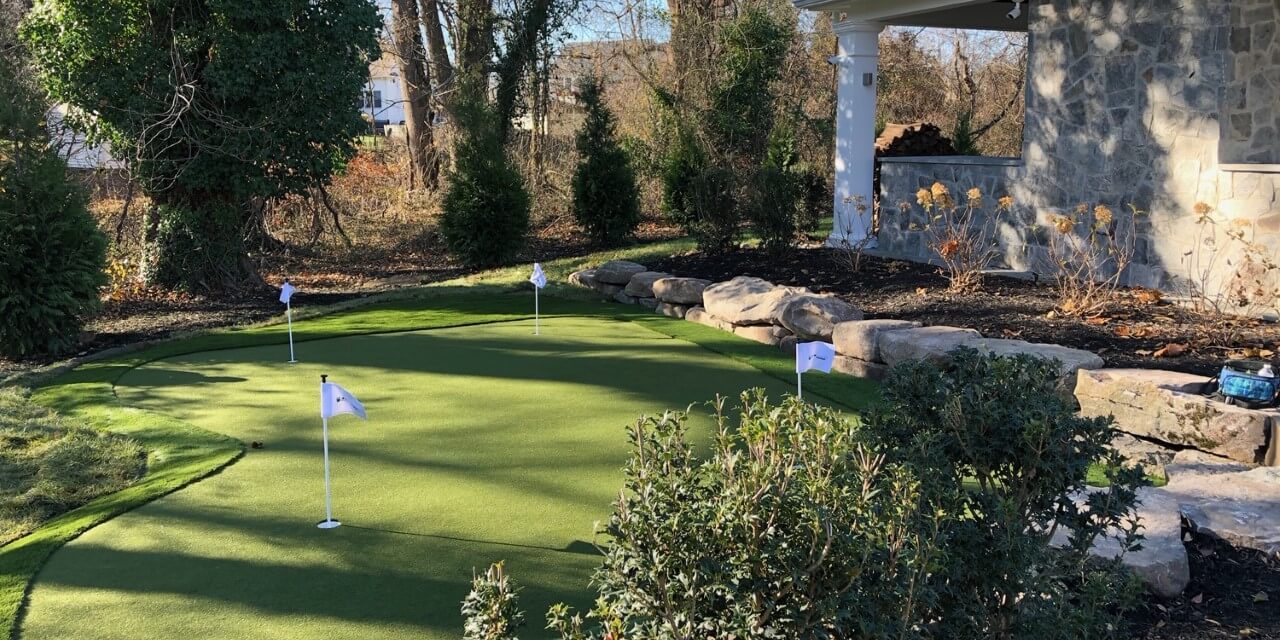 Artificial Grass Installation in Virginia Beach, VA
The professionals at SYNLawn are the premier artificial grass install company in Virginia Beach, VA and the surrounding suburbs.
With over 40 years experience in the industry, we understand all the challenges of installing artificial turf in the Virginia Beach area.
If you are looking to spend more time outdoors living with your family, would like to improve your short game with a luxurious putting green, or would just like to save time and money with the little to no maintenance that artificial grass allows, SYNLawn of Chesapeake Bay can help.
Artificial Grass Lawns
Modern artificial grass, and specifically grass from SYNLawn, is hyper realistic in look and feel, nothing like your grandpa's fake grass. Artificial grass from SYNLawn is luxurious and improves the overall look and feel of your backyard by always being perfectly manicured and is always a natural bright green all year round.
With a professionally installed artificial lawn, there is very little to zero maintenance needed. Take your weekends back. Virginia Beach is known for its beautiful beaches, enjoy more time at the beach and less time maintaining your lawn.
GET A FREE CONSULTATION
"*" indicates required fields
Cost Savings & Eco Benefits
If you don't maintain your lawn and landscaping personally, the other benefit you can bank on with an artificial grass lawn is a reduction in your landscaping fees. Our professional artificial grass installation will require no cutting, trimming, fertilizer, little to no water, your wallet will thank you!
The eco benefits can be significant. The water savings alone can help with the environment tremendously, and when you also account for the massive reduction in fertilizers and pesticides, the benefits are compounded. The other element you might not think about is that you don't have gas powered lawn equipment running every week. When you consider these eco benefits of installing artificial grass, you can understand why it can be such an attractive option for many people.
Playground Turf
If you are wondering how our safe artificial turf is for kids, we can put any worries to rest. Our playground turf products are safe for kids and in fact under the accordance of IPEMA and CSA approved fall attenuation, our turf protects children from falls as high as 10-feet.
Playground surfaces can take a lot of abuse from kids rough play sessions, especially around playground equipment such as the end of a slide or under a swing. SYNLawn's playground turf products are designed to be highly durable for this very reason.
Pet & Dog Turf
The Virginia Beach the summer beach season sees frequent rain. And all pet owners understand the fact that rain+dirt=mud. We tend to keep the dogs indoors when it's wet outside otherwise the house will have tracks of muddy paw prints in no time. With artificial grass designed and installed for dogs and pets, the drainage is very efficient and this greatly reduces the chances of muddy areas in the lawn.
Our dog turf is also highly resilient against digging, yellow stains, running tracks and just about anything else your beloved pets can throw at it.
Putting Green in your Virginia Beach backyard
If you're contemplating installing artificial grass at your Virginia Beach property, why not make it a putting green? Even non-golfers see the beauty in a perfectly manicured golf green in the backyard, it imbues luxury and class. Don't just let any landscaper install a putting green, the professionals at SYNLawn Chesapeake Bay create a putting green that will rival your favorite Virginia Beach golf course.
Start with a free consultation
Give the friendly team at SYNLawn Chesapeake Bay a call to schedule your free consultation today!