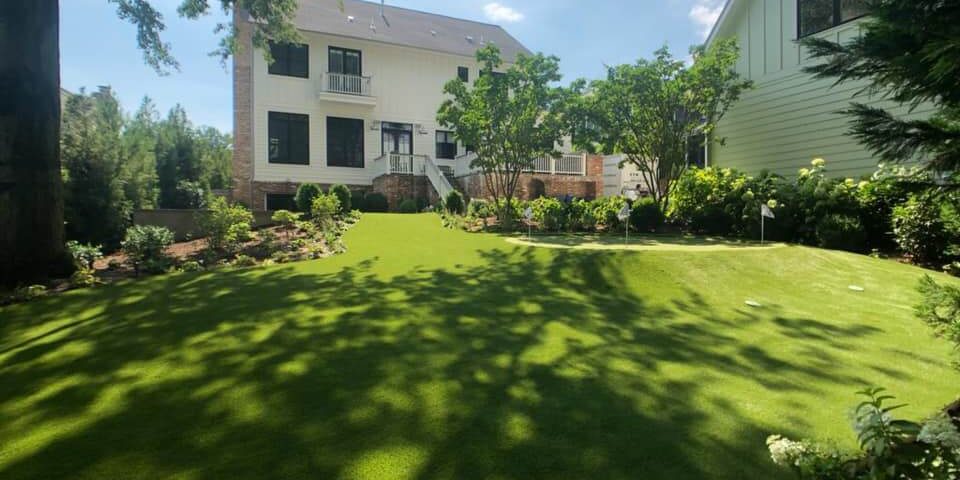 Bethesda, MD Artificial Grass
SYNLawn of Chesapeake Bay provides artificial grass design and installation services in Bethesda, MD. Our team of dedicated professionals can install synthetic grass for your residential and commercial spaces. Whether you're looking for a low maintenance artificial turf product at your business or for your backyard lawn, look no further than SYNLawn of Chesapeake Bay.
Artificial Grass Lawns
Beyond the perfectly manicured look and feel of our artificial grass lawns, there are many other benefits to installing artificial grass in your front or backyard lawn. One of the big reasons is the low maintenance it provides, you will gain your weekends back or save money on landscaping maintenance fees.
Artificial grass can be very eco friendly, it requires very little water to maintain it's beautiful condition. And with very low maintenance comes less need for noisy gas powered lawn equipment, which means less pollutants into the air.
GET A FREE CONSULTATION
"*" indicates required fields

Safe & Durable For Kids Play Areas
If you are looking to install playground turf at your Bethesda home, our artificial grass system designed for playgrounds will help protect your little ones injuring themselves while playing. Our playground turf is highly durable and combats high foot traffic areas like slide landings, merry-go-rounds, and paths to other play equipment. Our playground surfaces can include foam padding protection which is an extra layer of protection to cushion falls.
Durable & Safe For Pets
Are you tired of your dogs walking mud and water inside after the snow has melted? Artificial pet and dog grass can be a great solution to help prevent mud and water pooling in your yard, say goodbye to muddy paw prints.
Pet turf from SYNLawn of Chesapeake Bay is highly durable and designed to handle the high energy play time from even the most raucous pets and dogs.

Backyard Putting Green Oasis
An often overlooked benefit of artificial grass is the sports aspect, especially golf and putting greens. SYNLawn of Chesapeake Bay has expert putting green installation technicians that can build the putting green of your dreams. It is notoriously difficult to maintain a traditional grass putting green, and the opposite is true for an artificial grass putting green. There is little to no maintenance, which means more time to hone in your short game in the comfort of your very own backyard.
Start With a Consultation With An Expert
Researching the right artificial grass company in Bethesda, MD can be difficult, so we invite you to contact our friendly office and start with a free consultation with an artificial grass expert.
SYNLawn of Chesapeake Bay has over 40 years experience in the industry, so you can rest assured that we will get your artificial grass project in Bethesda completed right the first time. Whether you need a beautiful artificial grass lawn, putting green, playground surface or pet area, SYNLawn of Chesapeake Bay has you covered.
Call us on 443-376-6787 or send us an email to receive a free complimentary consultation and let us know about your artificial grass project.