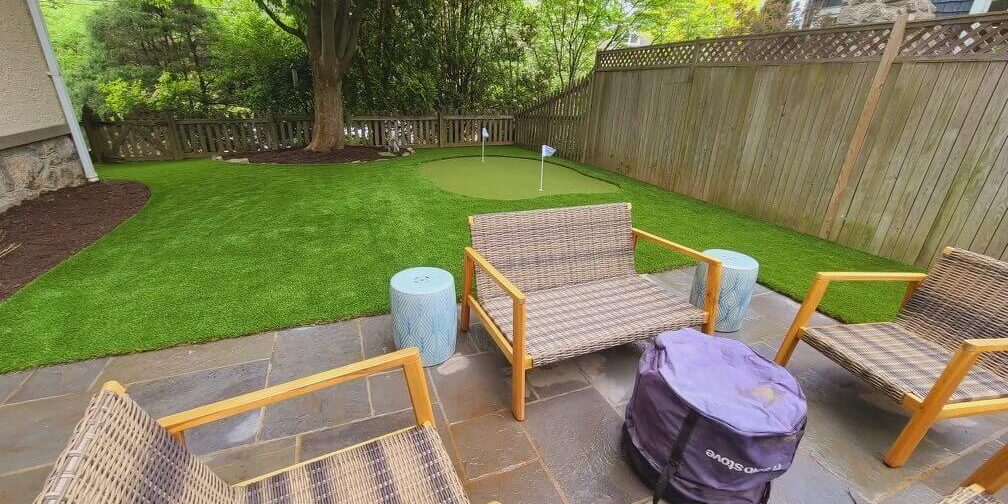 Artificial Grass in Arlington, VA
For realistic artificial grass installation in Arlington, Virginia, SYNLawn Chesapeake Bay offers the best synthetic turf products to improve the look of your home or business.
If you're looking to transform the visual appeal of your home's yard or need attractive, low-maintenance commercial landscaping, SYNLawn can help! Our team sells and installs high-quality artificial grass and synthetic turf products that can revitalize residential and commercial outdoor spaces.
Although Arlington, VA is already sprawling with natural greenery, many home and business owners are taking advantage of artificial grass due to its low maintenance qualities and weather resistance. Whether it's humid, rainy summers, or cold, snowy winters, SYNLawn artificial grass remains beautifully green throughout all seasons.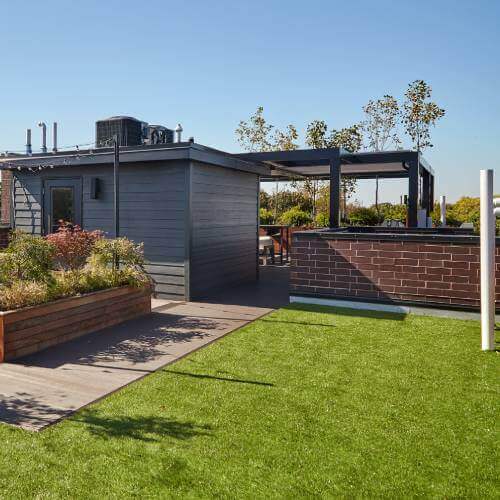 Artificial Grass Applications & Features
Artificial grass from SYNLawn Chesapeake Bay boasts many unique features and benefits, including:
Conserving water – artificial grass doesn't require sprinklers or watering.
Saving money by eliminating the need for landscaping contracts and equipment.
Freeing up your weekends by not having to spend hours maintaining your lawn.
Enjoying a green, perfectly trimmed yard throughout the year.
Creating more livable spaces on roofs, decks, and patios.
If you can dream it, our team can create it! In many cases, the possibilities for artificial grass only end with your imagination. Our customers can have synthetic turf installed in the following spaces:
These areas are just a handful of popular ideas for SYNLawn artificial grass. Check out our photo gallery for additional ideas!
GET A FREE CONSULTATION
"*" indicates required fields

Artificial Grass for Landscaping & Lawns
At its inception, artificial grass looked plastic and cheap. But thanks to modern manufacturing technology, SYNLawn artificial grass looks stunning and ultra-realistic. It can be challenging to tell our synthetic products apart from natural grass, except that it remains flawless year-round.
Arlington, VA homeowners and business owners are taking advantage of artificial grass for lawns and landscaping because it's low maintenance, saves money, and conserves water. Plus, it entices clients, customers, and guests with its vibrant beauty.
SYNLawn Chesapeake Bay has various artificial turf and grass types to choose from. Our experts can help you decide which type will best fit your landscaping needs based on your budget, potential foot traffic, area size, and expected intensity of use. With SYNLawn Chesapeake Bay, artificial grass is no longer "one size fits all." We tailor artificial grass installation to your requirements and standards.

Golf Putting Greens for Backyards & Businesses
At SYNLawn Chesapeake Bay, we combine state-of-the-art materials with innovative technology to provide the highest quality artificial golf turf. Whether for mini-golf course construction or a private backyard putting green, we install professional-grade synthetic golf grass. Our nylon putting greens look, feel, and perform like an actual golf course. We even offer additional customization options to help you create artificial golf greens to suit your practice needs.
Artificial Pet Grass
All pet parents want a fun, comfortable space for their dogs to play and enjoy life. SYNLawn is at the forefront of creating incredible green spaces for pets to play – without the hassle of digging, muddy paws, or constant upkeep.
Artificial pet grass is durable enough to hold up against determined claws but gentle enough for sensitive paws or skin. Our pet turf will create a gorgeous aesthetic while providing your pup with a cool area to run or sunbathe.
Benefits of SYNLawn synthetic pet turf include:
Made with our durable superyarn blend for superior durability & realistic look
No maintenance or watering required
Excellent drainage rate to avoid pooling of water
Reduces the potential of allergens & parasites that gather around natural grass
Great for private residences or pet businesses
Whether you need pet-friendly turf for your home or a more extensive play yard for your doggy daycare business, SYNLawn Chesapeake Bay is happy to install our durable, non-toxic pet grass!
Get a Free Quote Today!
Artificial grass from SYNLawn Chesapeake Bay is high-quality, cost-effective, and currently available for installation in Arlington, Virginia. We understand you may have questions, but our experts have answers. In addition, our team offers free no-obligation consultations. Contact us today to learn more about our synthetic turf or get a free quote!