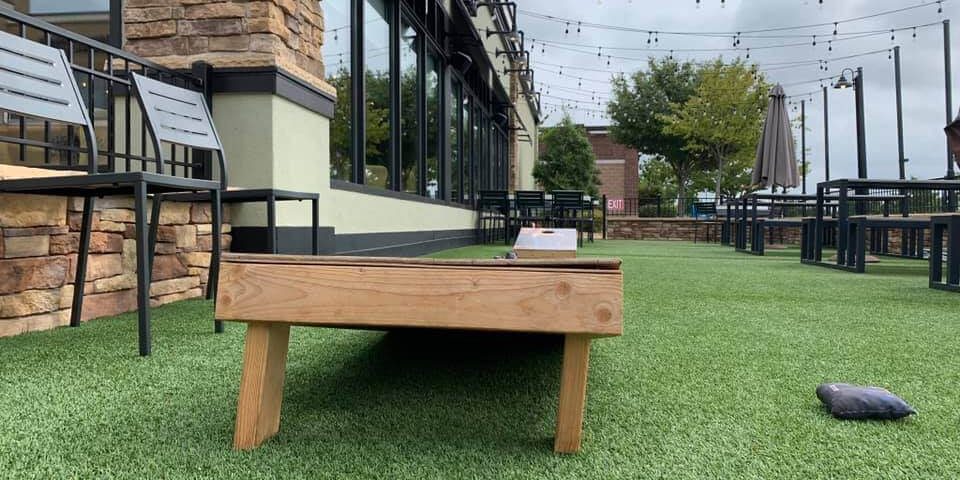 Artificial Grass in Fredericksburg, VA
Home and business owners in Fredericksburg, VA, can utilize artificial grass products and installations from SYNLawn Chesapeake Bay to enhance their lawns, landscaping, and more while also reducing maintenance costs. Our picture-perfect artificial turf is made from high-quality materials right here in the United States. It can be an impressive and sustainable addition to backyards, commercial landscapes, parks, and more. Find out what our synthetic grass can do for your Fredericksburg property below:
Beautiful, Low-Maintenance Synthetic Surfaces
At SYNLawn Chesapeake Bay, our artificial grass provides a beautiful, lush, and consistent look for residential and commercial properties in Fredericksburg, VA with little upkeep. Traditional grass requires watering, mowing, fertilizing, and removing weeds, which can be time-consuming and expensive. With our artificial turf, you will have a green, healthy-looking lawn, landscape, or putting green year-round without any of these common maintenance requirements. This can be particularly helpful in Fredericksburg, where the humid summers and cold winters can be hard on conventional grass.
Highly Durable Lawns & Landscaping
Another significant benefit of artificial grass for Fredericksburg properties is that it is incredibly durable and long-lasting. At SYNLawn Chesapeake Bay, our synthetic grass is designed to withstand heavy foot traffic, changing weather conditions, and years of use without showing signs of wear and tear. It is also resistant to insects, pests, and other environmental factors that often damage traditional turf grass. This makes our artificial turf an ideal choice for high-traffic areas on commercial properties, playgrounds, and even in backyards.
Artificial Grass is a Cost-Effective Investment
Artificial grass installation from the team at SYNLawn Chesapeake Bay is a cost-effective solution for property owners in Fredericksburg, VA. We offer competitive rates on our many synthetic turf products as well as our design and installation services. Plus, the long-term savings on maintenance and upkeep costs are significant as well. And the longevity of our artificial grass means you will not need to replace it as frequently as conventional grass, which can also save you money in the long run. So consider making the switch!
GET A FREE CONSULTATION
"*" indicates required fields

Environmentally Friendly Grass Alternative
In addition to being cost-effective and low-maintenance, our artificial turf is also an eco-friendly choice for home and business owners in Fredericksburg, VA. Because it does not require watering, our synthetic grass helps conserve water resources in the area, which is always helpful. Our artificial grass also eliminates the need for harmful pesticides and fertilizers, which can be harmful to the environment and local wildlife. Ultimately, this makes our artificial turf a sustainable choice for eco-conscious property owners.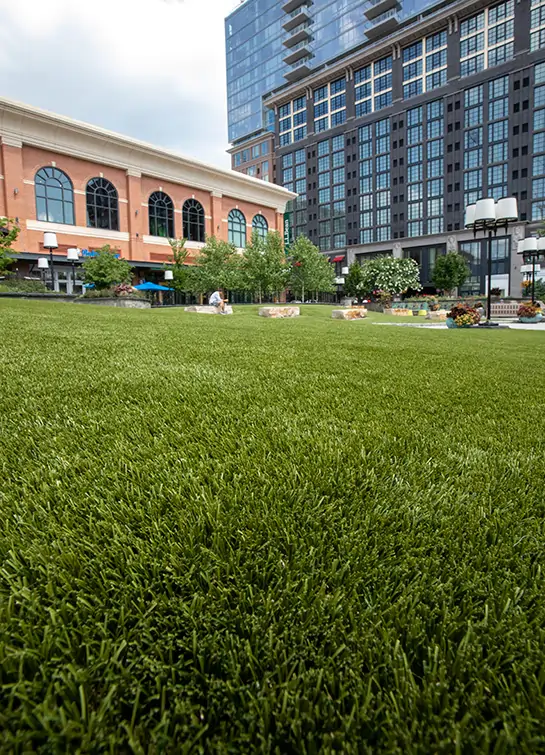 Specialized Artificial Grass Options From SYNLawn Chesapeake Bay
At SYNLawn Chesapeake Bay, our various artificial grass products offer a versatile solution for both residential and commercial properties. Our synthetic turf products can be customized to fit nearly any space or design – whether you are looking to create a small backyard oasis or a sprawling commercial landscape. This flexibility makes it an ideal choice for properties with unique landscaping needs or challenging terrain.
Some of our many specialized artificial turf options include the following: 
With these American-made synthetic grass options, you can improve your Fredericksburg, VA property in a variety of ways. For example, our artificial pet grass can provide the ultimate pet-friendly surface for a dog park, while our synthetic sports turf can help transform athletic fields for the better! For inspiration, check out our gallery!
Contact Us Today to Get a Free Quote for Your Property in Fredericksburg, VA!
Artificial grass from SYNLawn Chesapeake Bay is a smart investment for both home and business owners in Fredericksburg, VA. With its low maintenance requirements, durability, eco-friendliness, and versatility, our synthetic turf is an ideal choice for anyone looking to enhance their property's appearance while reducing their maintenance costs. If you are interested in artificial grass installation or have any questions about our synthetic grass, contact us today!