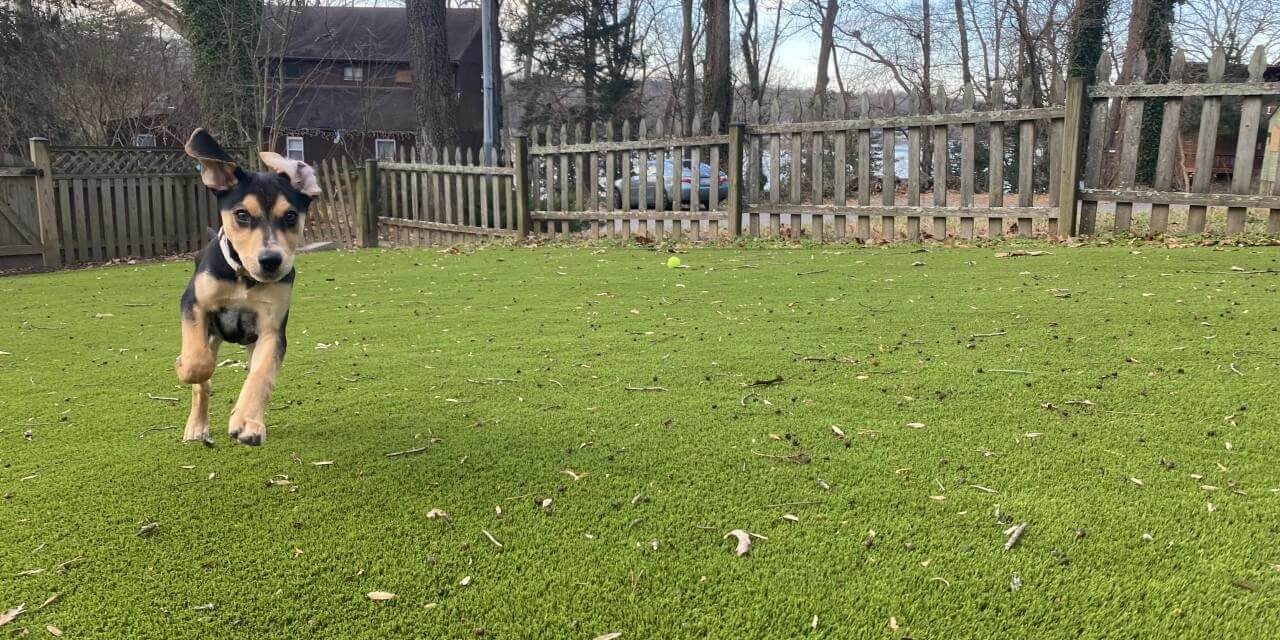 Artificial Grass In Columbia, Maryland
At SYNLawn Chesapeake Bay, we install artificial grass for many different clients all throughout the Chesapeake Bay area, including Columbia, Maryland. Whether you want synthetic grass on your golf course, or you're a restaurant selling world-renowned delicious Maryland blue crabs and you want to catch the eyes of potential customers, we have the solution for you. No matter what project you have in mind for us regarding artificial turf, we have the expertise to complete it.
All The Benefits That Come With Artificial Turf
There are many reasons our clients have used and continue to use artificial grass in their homes and businesses.
Fake grass is eco-friendly and doesn't need chemicals such as herbicides.
Faux grass conserves water, lowering your water bill and helping the local environment.
Synthetic turf is very low maintenance, saving you time and money.
Artificial grass always looks green and radiates beauty
Synthetic grass is highly durable and resistant to being misshapen or torn.
An artificial grass lawn saves you money given that it requires so little upkeep.
GET A FREE CONSULTATION
"*" indicates required fields

All The Places You Can Use Artificial Grass
There are so many different places you can use artificial grass. From playgrounds, to dog runs, to an indoor putting green, to your commercial business, only your imagination is the limit! Our team of experts will help you design and install a synthetic grass lawn to match your goal for your space.
Synthetic Grass For Dog Runs & Doggy Day Cares
If you're responsible for many dogs, you of course want them all to have fun, but at the same time, you also want peace of mind that they're going to be safe. Synthetic turf from SYNLawn Chesapeake Bay provides all of these benefits.
If you are responsible for a doggy day care, the last thing you want is a nightmare scenario where a dog digs their way out of the place and runs away. The artificial grass designed for pets and dogs from SYNLawn Chesapeake Bay makes this impossible due to how strong it is. Even if the dog is a powerful Mastiff and is furiously digging into the ground, the synthetic turf will easily resist it like nothing happened.
In addition, artificial grass from SYNLawn Chesapeake Bay is built to drain fast. This means no puddles for dogs to jump into. This also means dog pee will not accumulate on the surface. This quick draining feature helps the pet grass lawn to avoid turning into an eye watering stink. Furthermore, our antimicrobial features assist with odor control to keep your pet grass play area smelling fresh.
Synthetic Grass Lawns For Commercial Applications
If you run a commercial business, you're always thinking about ways to save money. With our artificial grass lawn, you can put more money in your pocket. Due to the synthetic grass being such low maintenance, you won't need to get into costly maintenance contracts pertaining to landscaping. There will be no need for any gardeners or landscaping equipment.
Artificial turf from us is also not only extremely customizable, but also always looks great. So if you want your commercial business to catch the eye of a passerby, having them gazing upon fantastic looking fake grass could get their attention and pique their curiosity.

Synthetic Turf For Playgrounds
When it comes to children playing on a playground, safety is always the top priority. Artificial turf from SYNLawn Chesapeake Bay checks off every safety box you can think of. Our artificial grass is soft and built for playgrounds and to protect children from trips and falls. Also, kid's allergies won't flare up with our playground synthetic grass, as it doesn't produce pollen. Finally, our playground turf is solid and robust, meaning it won't move like regular grass sometimes does to expose a hard surface or a hole to trip over.
Artificial Grass For Golf Greens & Putting Greens
There's no denying that having a golf green right in your backyard makes golfing a whole lot more convenient. This means you won't need to travel far away just to play your favorite sport. Furthermore, you won't need to worry about if there's a wet or dry season going on, as artificial grass easily handles both of those. Finally, the texture of your grass will always remain the same, allowing you to have consistent practice.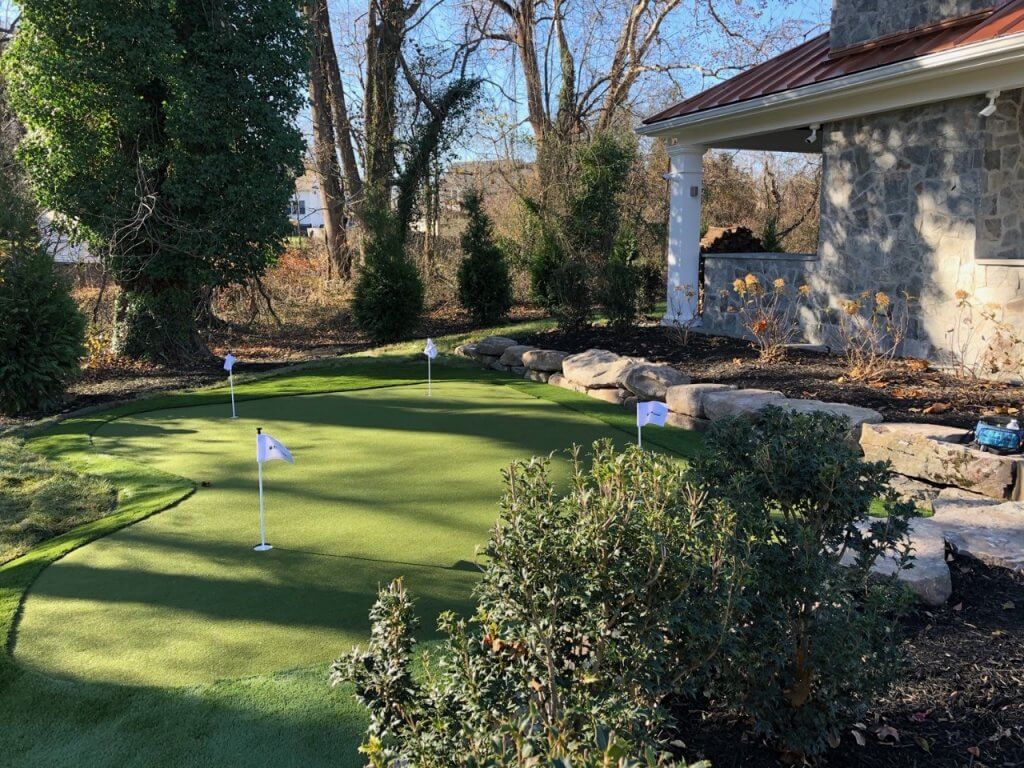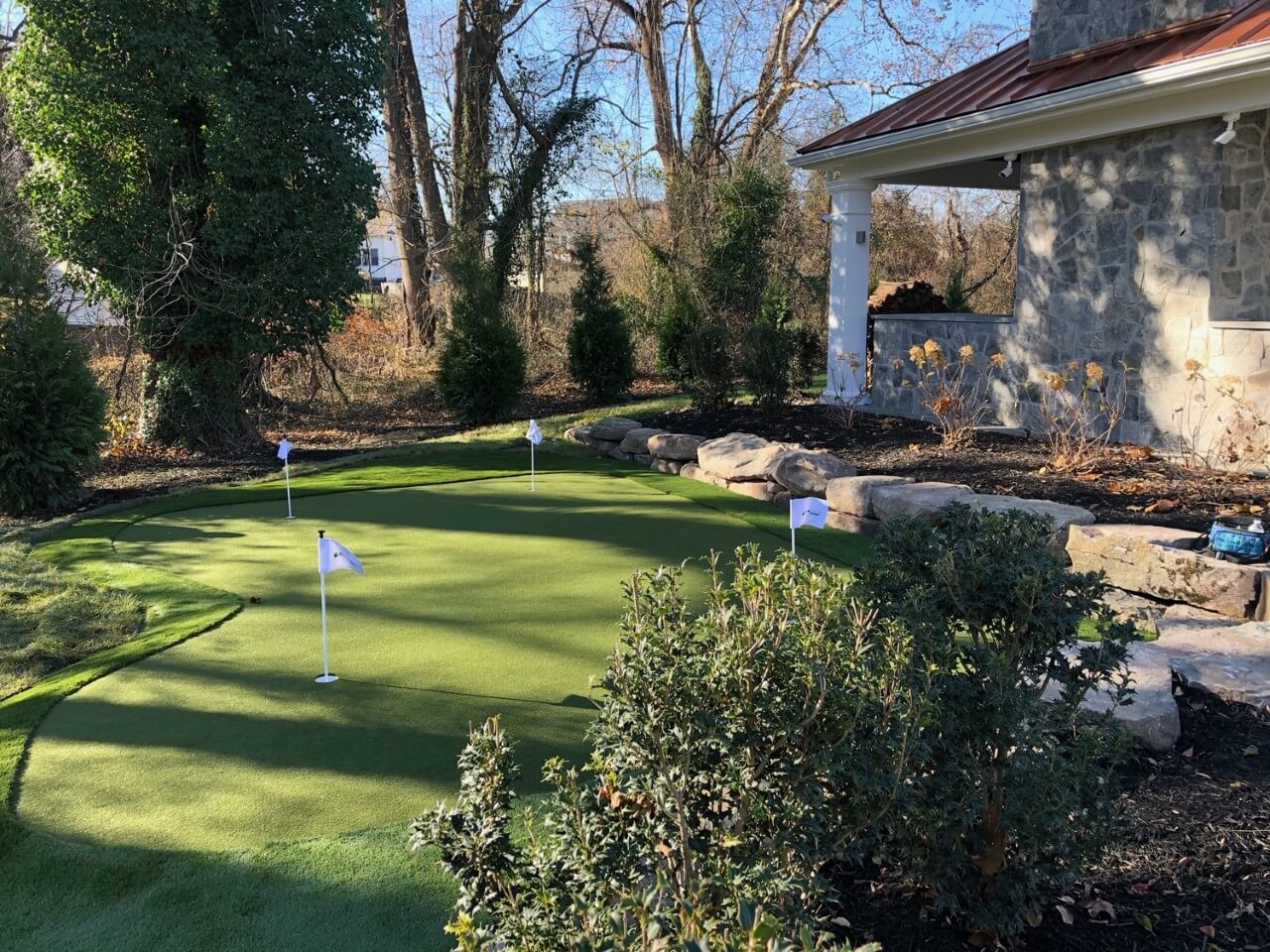 Artificial Turf For Residential Use
With our artificial grass installed on your property, your neighbors and visitors won't even know it's a fake grass lawn. You'll also save plenty of time and money not having to do things like mow your lawn, fertilize it, water it, hire a gardener, etc. Also, our synthetic turf is pet safe and kid safe. It is built with cooling technology, meaning the grass won't overheat on a hot summer day, even in full sun. Also, because the grass is a synthetic lawn, it is inhospitable to pests and parasites like fleas and ticks.
Get In Touch With Us At SYNLawn Chesapeake Bay
If you're considering synthetic grass for anything in or around Columbia, MD, we can help you out. We have experience with all sorts of projects and will make your vision into a reality. Contact us via email for a free consultation and one of our friendly staff will talk things over with you.