What golf enthusiast wouldn't want a putting green in their very own backyard?
Imagine grabbing your putter, walking out your back door to a perfectly manicured putting green and honing your short game. No dress code, no driving, no checking in, no waiting. Just get away from it all and enjoy a putting session at any time day or night.
An artificial grass putting green installed in your very own backyard can be a dream for many golf enthusiasts, and the affordability and benefits might be more numerous than expected, especially when considering maintenance costs of a traditional sod putting green.
Here are the top 5 reasons we think you should consider installing a putting green in your backyard:
1) Little to no maintenance
An artificial grass putting green needs very little to zero maintenance. In comparison with a traditional sod putting green it's a day and night difference.
Our team of professionals have years training and experience installing putting greens. We do it right the first time, which means little to no maintenance on your part. All you need to do is enjoy your luxurious putting green every chance you get.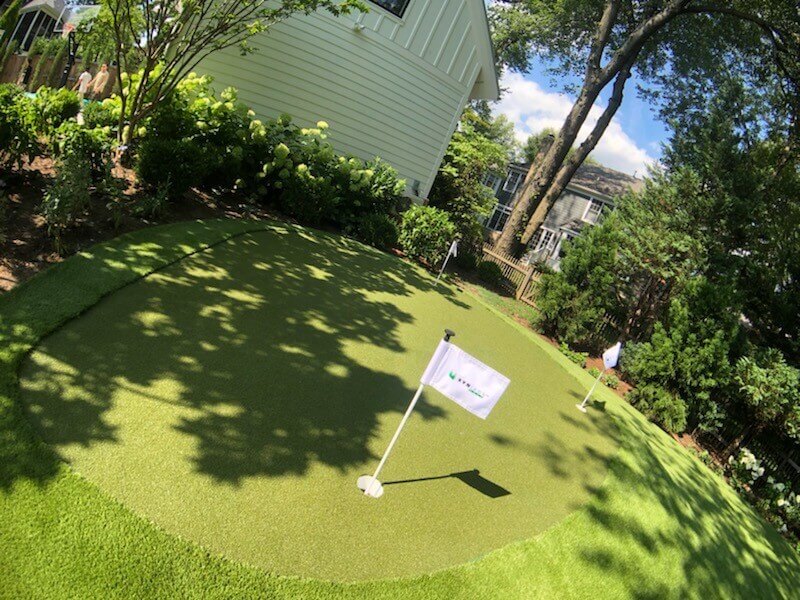 2) Eco-friendly
With little to no maintenance, also comes the eco benefits. Artificial grass putting greens do not require even a fraction of the water a traditional putting greens needs. This is extremely helpful with water conservation.
The other eco benefit of an artificial grass golf green is that you do not need to run gas powered lawn equipment for hours on end just to keep your green looking good.
Not to mention our artificial grass is USDA certified renewable and recyclable.
3) Cost effective & affordable
So we have little to no maintenance and eco-friendly benefits so far, let's go a step further to where everyone takes notice, your wallet!
With no maintenance / landscaper fees and little to no water usage, it's easy to understand why artificial grass putting greens are so outrageously affordable, especially in comparison to a traditional sod green.
While an artificial turf putting green might run a little more for the initial install as opposed to a traditional lawn, when one adds up the maintenance and water savings it is plain to see the cost-effectiveness of artificial grass overall.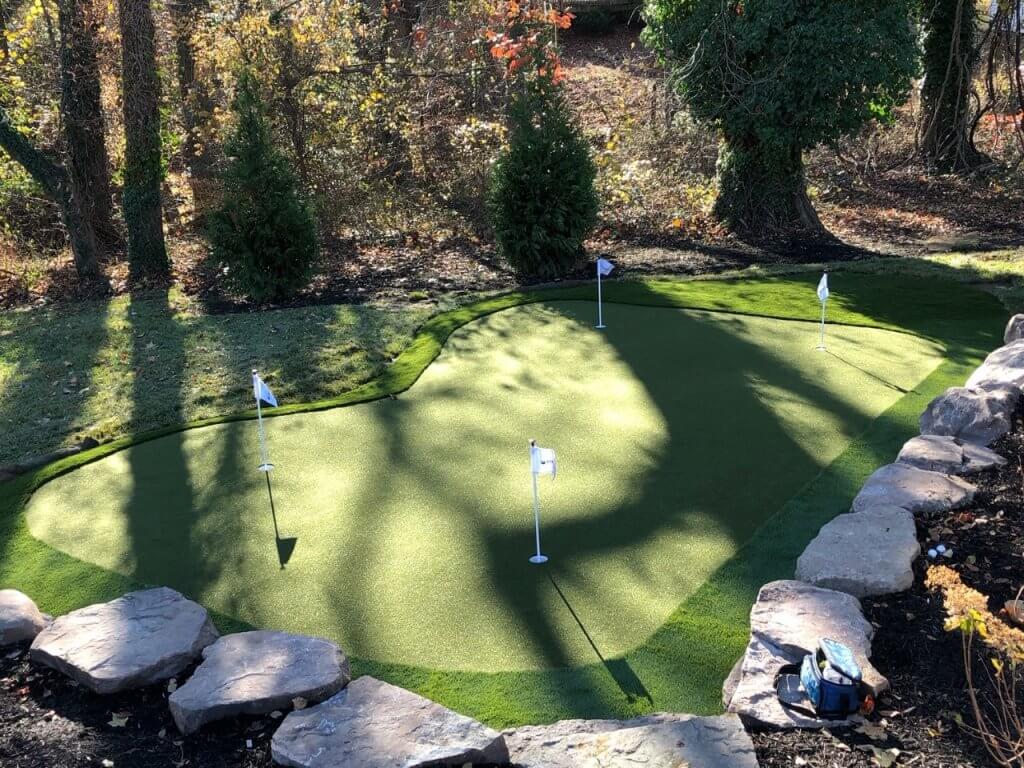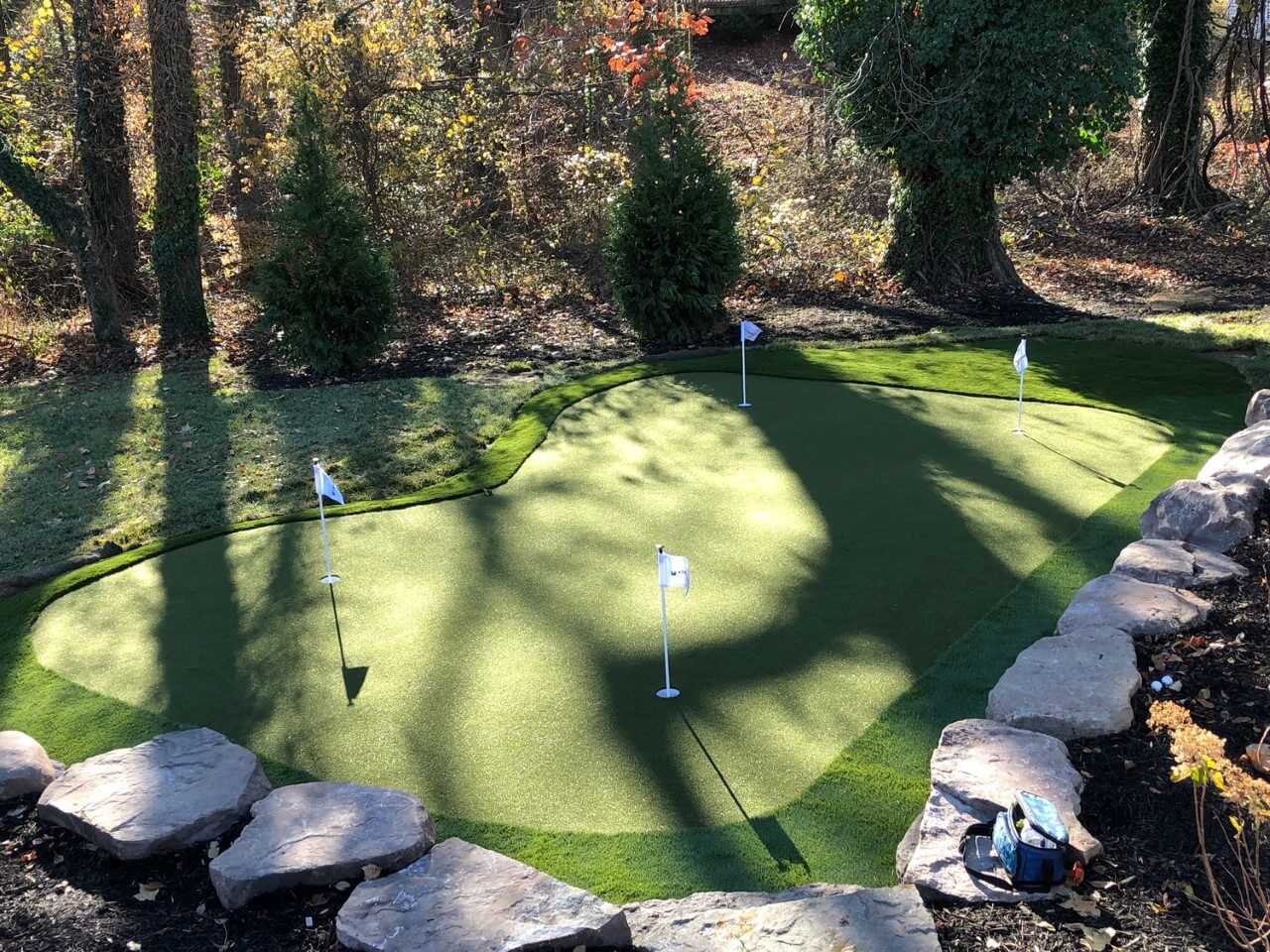 4) Improve your short game while enjoying time with the family
If you have a spare 15 minutes, you are able to pop out the backyard for a short putting session. This is invaluable when you have a goal of improving your short game. In this day and age of remote work, a backyard putting green is a great way to take a quick mental break to refresh your mind and reduce stress.
While the putting practice is clear, we can also install chipping areas, which can bring your short game to a whole new level.
And why not invite the family outside to join you? Your kids and spouse will be sure to get just as much enjoyment out of a putting green as you, the golf enthusiast does.
5) Increase value of your property and enhance the aesthetic appeal
The aesthetic appeal of a perfectly manicured putting green can increase the perceived value of your property. A putting green is a thing of beauty, even a person with no interest in golf can appreciate the beauty of a gorgeous green. It's not a polarizing house feature that may cause a buyer concern.
A putting green is perceived as a luxurious feature, that would very likely increase the value of your home and shorten the time to sell.
Get a free consultation with one of our professionals
If you'd like to learn more about installing a putting green in your backyard, or even your commercial area, please call our friendly team on 443-376-6787 or send us an email.