Installing artificial grass for your commercial business in the Chesapeake Bay area and the surrounding regions in Virginia, D.C., and Maryland can be quite beneficial in many ways. At SYNLawn Chesapeake Bay, we are more than familiar with the wide array of benefits your business facility can receive from artificial turf, given that we have over 40 years of experience in the construction industry and a team of expert technicians. From boosting your commercial business's aesthetics to saving you money, getting synthetic grass installed can be an amazing investment.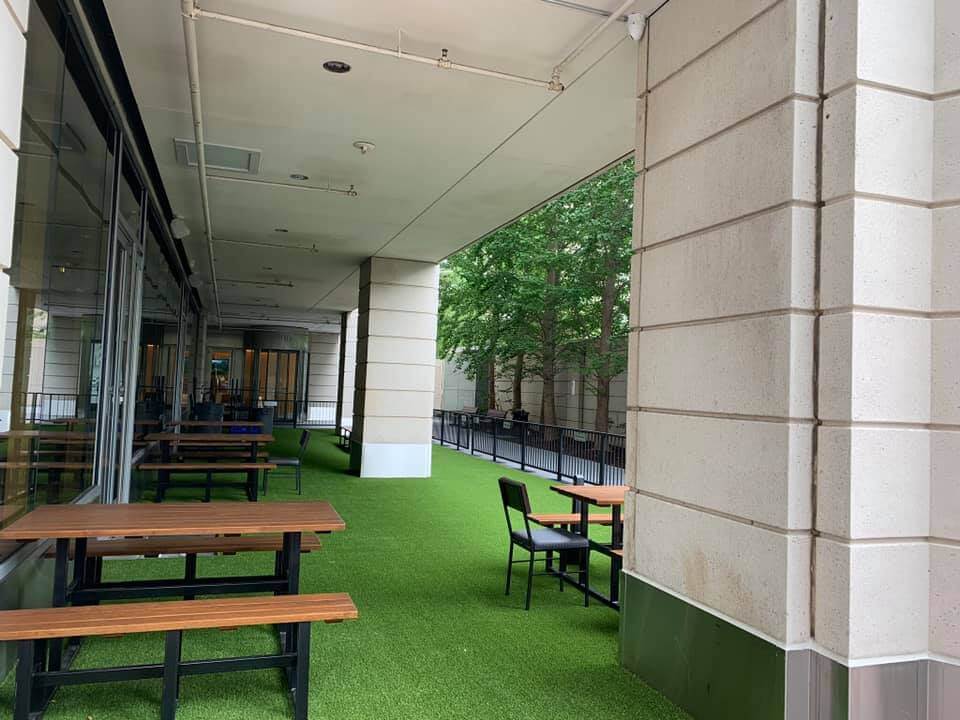 Save Money With Reduced Maintenance
A huge reason why artificial grass is so advantageous to businesses is that having it in lieu of a traditional lawn saves you money on maintenance costs. Due to the grass being synthetic, expensive gardening equipment isn't needed to take care of it. Essentially, this means no need to mow it, de-weed it, mulch it, fertilize it, and anything else associated with a regular grass lawn that would drain money from your bank account. Suppose your business has had to regularly shell out a lot of cash by entering into an expensive landscaping maintenance contract in order to get your lawn taken care of. In that case, those days are over once you have artificial turf installed at your place of business.
The team at SYNLawn Chesapeake Bay can even install a commercial putting green at your facility to help reduce stress, or how about a playground for the day care center.
Save Money With Reduced Water Usage
If you feel like you're being drowned by your commercial business' water bill, artificial turf could be the answer. During hot summer days, regular grass lawns may need hundreds of gallons of water to keep it healthy. However, because water is a limited and precious resource, the more you use it, the more it's going to cost you. What's so advantageous about artificial turf, though, is that you'll never need to be concerned about watering it. Unlike regular lawns, where you may need to worry about things like watering it too much, too little, or maintaining a consistent watering schedule, none of these concerns will apply to your new synthetic lawn.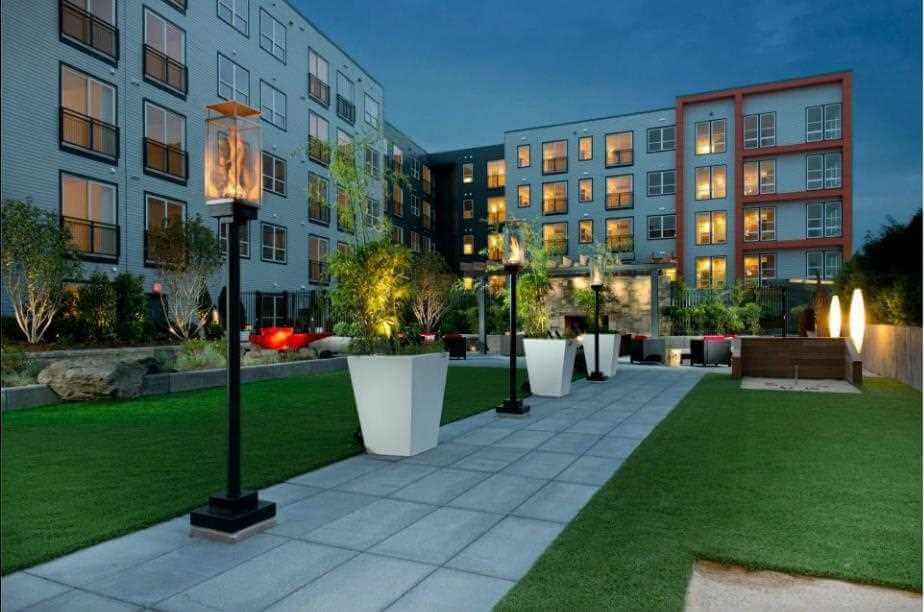 Enhance The Appearance Of Your Store/Facility
When it comes to your commercial business, you may only have seconds to make a positive visual first impression. An unkempt-looking front lawn could turn off potential customers and keep them from even giving you a chance. With a lush, green, and gorgeous synthetic lawn at your business establishment, positive momentum can be immediately created with potential clients. Additionally, our artificial turf can be used within your facility as well. It is fully customizable according to your needs, meaning landscaping or even displaying your business' logo, featuring an intriguing design, or really anything you want.
Perfectly Manicured Grass All Year Round With No Worries
A fantastic feature about having artificial turf at your business facility is that it stays perfectly manicured and looks immaculate all year round. This means you won't have to be worried about your grass growing too long, which not only can be an eyesore but can also even lead to fines from the town or city you're in. Besides, you won't have to fret over your grass being cut too short, which can cause regular grass to weaken and make your lawn more susceptible to ugly brown spots and weed growth.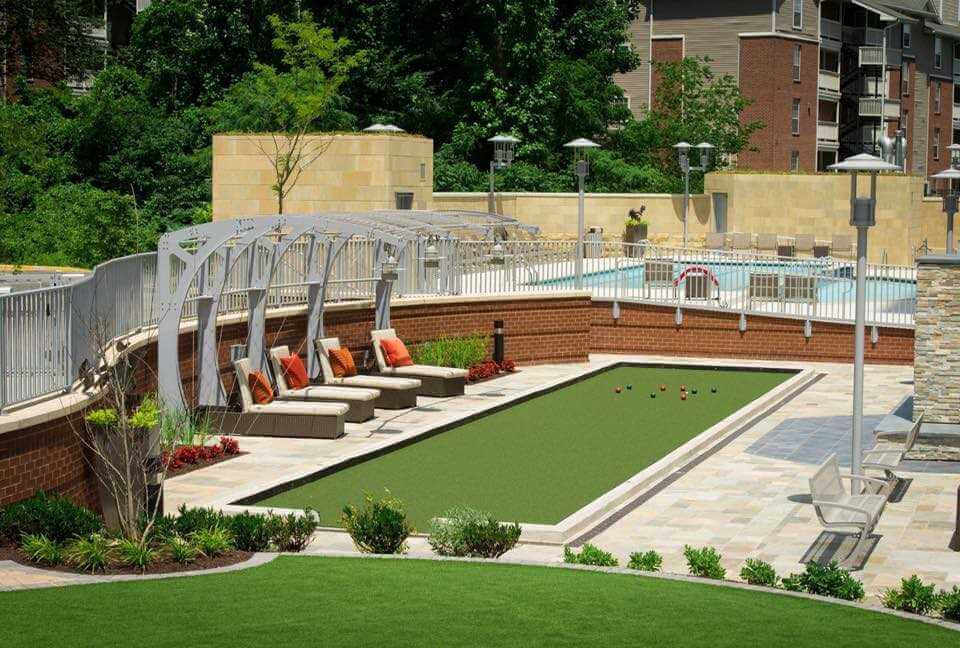 Allergy & Eco-Friendly
Another marvelous thing about our artificial turf is just how allergy-friendly it is. While ordinary grass lawns create pollen and cause allergy symptoms like red eyes and sneezing, that won't be the case with synthetic grass. Synthetic grass produces no pollen, meaning no constant coughing, sneezing, and runny noses.
In addition to being allergy-friendly, our synthetic grass is also exceptionally eco-friendly. Because it never needs expensive gardening equipment used on it, thus less greenhouse gas emissions are being released into the atmosphere. Due to the artificial grass never needing to be given fertilizer, pesticide, or herbicide, you won't need to get worked up over chemicals spreading from your lawn to other locations, like the local water table. Our synthetic grass lasts an incredibly long time, meaning resources won't need to be constantly spent to replenish a synthetic grass lawn. Finally, our artificial grass is recyclable, meaning when it does eventually expire after 10-15 years, it won't wind up being thrown into a landfill somewhere.
Why Go With SYNLawn Chesapeake Bay To Install Artificial Turf For Your Business
Given all of the benefits to be had by installing artificial grass at your commercial business, you may right now be strongly considering it. If so, choose us, SYNLawn Chesapeake Bay, to do the installation for you. Between our decades of experience in the industry, to our highly skilled technicians, to our familiarity with the local area we serve, we are well-equipped to implement any idea you might have related to artificial turf.
Contact us via email or by calling us at 443.272.4220, and one of our super friendly staff will get back to you. The first consultation we offer is always free!