SYNLAWN INTRO
Welcome to SYNLawn
Distributors & Certified Installers of SYNLawn for MD, DC and VA
GOLF
Golf & Putting Greens
Practice your golf game in the convenience of your own backyard!
DOGS AND PETS
Dogs & Pets
Keep your pets clean and healthy. SYNLawn synthetic grass is uninhabitable for tics, fleas, and other bugs.
PLAYGROUNDS
Playgrounds
Let us help you achieve your dream playground!
ROOF DECKS
Roof Decks
The SYNLawn Roof Deck Solution
RESIDENTIAL
Residential
Lawn & Landscape never looked so natural.
COMMERCIAL
Commercial
Commercial landscapes never looked so natural.
Artificial Grass in Virginia, Maryland & DC
SYNLawn Chesapeake Bay is the premier artificial grass installation company in Virginia, Maryland & DC. Our range of synthetic turf is versatile and can be used in a wide selection of applications such as: ultra realistic artificial grass for your lawn and landscaping, highly durable dog turf for your furry friends, cushioned kid safe playground turf or a putting green that plays like a PGA tour green.
SYNLawn Chesapeake Bay is family owned and operated and has over 40 years experience in the construction industry. As certified SYNLawn artificial grass installers, no job is too small or basic nor too large or complex. Our expertly trained installation technicians have the experience and skill to handle any artificial turf project that you have in mind.
Ready to discuss your project with SYNLawn?
We install artificial grass for Virginia, Maryland & DC including but not limited to the following cities.
Washington
Shaw
Adams Morgan
Chevy Chase
Bloomindale
What Our Customers Say...
Kaitlyn and her team at SYNLawn were absolutely incredible to work with from start to finish. They sent us an estimate and sent someone out within a day to come assess our space. The team was punctual, friendly, and professional. If you are considering turf installation, you should 100% hire this amazing company. We are SO pleased with the results and are so happy to have a pet friendly and kid friendly space for our family!

Ashley O.


4/25/2023

Hi Kaitlyn!!!!! Just wanted to follow up to say ... WOWSER!!!!! I love my new turf!!!!! ???? It looks FABULOUS!!!!!! And, it feels GREAT ... the sample patch you provided did not do it justice ... it's so soft and beautiful (and I really know ... I went back there and laid on it and rolled around on it ... lol!!!!)!!!!! And, it smells AWESOME and FRESH back there now ... so,glad I invested in the Envirofill!!!!! I wish I could also afford to do my front yard!!!! Lol!!!! ????

And my sons 2 big German Shepherds love it ... I can't wait to hang out with them on it later today, after I get home from work ... playtime ... lol!!!!!!! ????

I also have to say that Hector and his team were FANTASTIC!!!!!! Not only did they work hard .... but, they were super professional and polite, the entire time!!!!! ????

It was a true pleasure doing business with you!!!! As you know, I was on a budget ... so, was hesitant about the cost. You and Greg answered all my questions and you both explained everything in great detail ... but, it was not until after seeing all that was involved ... how much work it really was, and how good your team was, that I knew my money was well spent!!!!! I am a super satisfied client!!!!!! ????

THANK YOU, thank you so very much ... and please thank your team for me as well ... including Greg and Robin!!!!! Everyone I came into contact with was SUPERBLY knowledgeable and professional!!!! A true testament to your EXCELLENT business acumen!!!!!!! ????

Sincerely,
Nancy Bagley

Nancy B.


1/30/2018

Been talking about putting artificial turf in my backyard for years. Finally had it done and SYNlawn Chesapeake Bay did and excellent job in transforming my yard from mud, weeds and moss to a yard both my dog and I are enjoying. Professional and hardworking, they installed my yard quickly and efficiently. I would highly recommend SYNlawn and use them again.

Rick K.


7/13/2019

This company is FANTASTIC. They worked extremely hard to get me the product I wanted, installed on time, and at a price I could afford. Turf is a life changer for dog owners. I no longer have to deal with mud, dirt, mosquitos, reseeding, mowing, or an uneven play surface. I have a perfect, plush, clean surface year round. My bug zapper has been rehomed and my air handler will live a much longer life without the dog dust.

Danielle S.


7/24/2022

Fantastic experience from m start to finish .
It was a very small front yard in a townhouse and I was afraid it would be too small of a job then they assured me that it would not be and I could not be more delighted with the results. The installation process was a lot more work than I ever imagined it would be and it was handled beautifully. The two installers it came worked very very hard in super hot weather and finish the job in the scheduled time .
The finished product is even better than we could have imagined we are the envy of our neighbors everybody loves it. No more grass cutting, weeding, feeding or seeding we just hose it off and enjoy. The children in our neighborhood come to practice their gymnastics on our beautiful soft fluffy grass
My only regret is we did not do this years ago .fantastic experience fantastic company could not be any happier.
Don't hesitate just do it .

Sharron w.


9/14/2020

We shopped around to have artificial grass installed in our back yard. One thing that became apparent quickly was that this was not cheap. Synlawn were by far the most responsive and seemed to have their process dialed in. They told me about the ground work that needed to be done first to prepare for the turf, and when other companies came by and they were a lot cheaper, I asked them about groundwork and it seemed like they didn't have the same process. I researched online the correct way to do it and decided that this was a project worth doing right and the end product did not disappoint. Emily was awesome at communicating with me via email and phone, Danny came out to measure up and show me samples and he was great, and Ernesto and the crew who installed were fantastic. One of the more expensive projects we have done on the house but now we're enjoying the final product I'm so happy we chose the best company in this space.

Ryan V.


4/24/2020

The synthetic lawn turned out great, I couldn't be happier with the decision to have it installed. SYNLawn showed up when they said they would and got the job done in a day. I tried contacting a few other companies before SYNLawn to have the job done, I either heard outrageous prices, or there was no follow-up from the company. SYNLawn is the only company I will contact in the future.

Neal R.


12/18/2020
Artificial Grass Benefits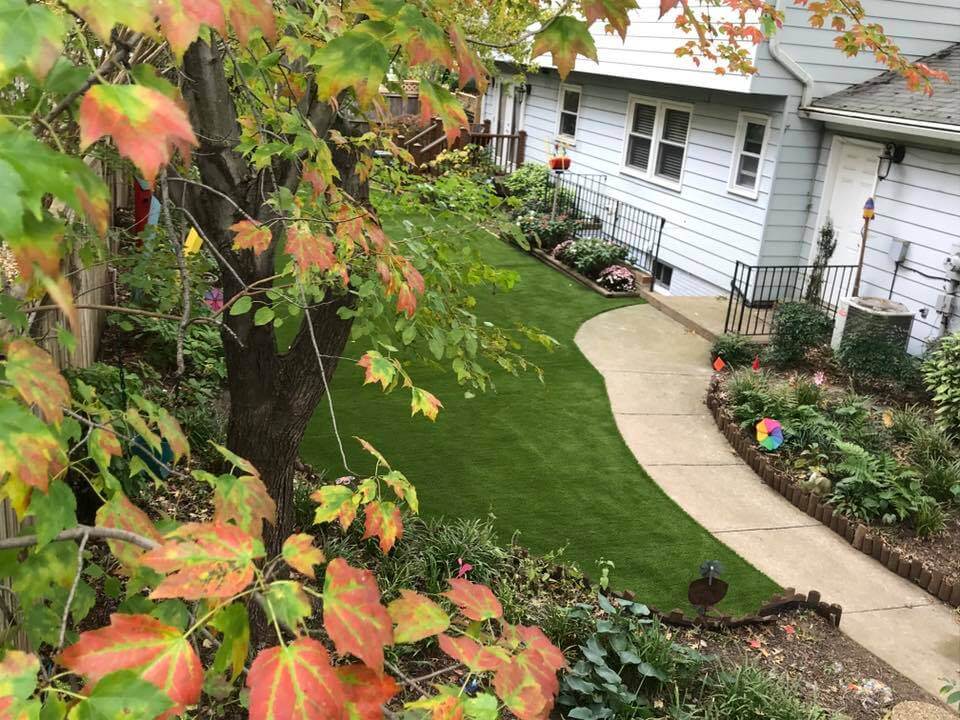 Go Green
Our artificial turf is made in the USA, and uses renewable and recyclable materials that reduce overall carbon imprint, due to its long-life expectancy. Our exclusive EnviroLoc™ technology replaces a large portion of petroleum-based polymers with bio-based polymers, such as renewable soybeans.
Water Conservation
When compared with the water usage of a traditional lawn, artificial grass saves hundreds of gallons of water -- not to mention the money saved on your water bill each month.
Low Maintenance
The maintenance is very low to non-existent, if compared with a traditional lawn, you will be saving many precious weekend hours doing what you love instead of maintaining your yard and landscaping. So get a beautifully realistic lawn and get your weekends back!
Envirofill
Featuring the durable Envirofill which is the antimicrobial, allergen free, dust free turf infill solution for heavy play use - from sports fields to parks and playgrounds - the perfect choice to keep players of all ages safe and clean and your play area ready for the next game when they are.
Super Yarn
When you are investing in your artificial turf you want the cleanest and safest lawn available to protect the ones you care about from pets to celebrity sports players. Super Yarn is the latest in turf technology providing molecularly combined elements that provides you with antimicrobial protection, heat resistant IR reflectivity thermal shielding, and static inhibitors.
Limited Lifetime Warranty
All our SYNLawn branded product installations feature our limited lifetime warranty; speak with our team to learn more about how your artificial turf is protected.
Why SYNLawn?
SYNLawn has been in the industry since 1965, and over the years has perfected the manufacturing process of their artificial grass. With our impressive line up of synthetic grass solutions for just about any application you can think of along with our technical know-how we are sure to impress. We are here to make sure your project is a success and that it stays in tip top shape for years to come. When it comes to choosing an artificial grass company in Virginia, Maryland or DC, the choice is easy---SYNLawn of Chesapeake Bay.
SYNLAWN'S TRULY "GREEN" BIO-BASED CONSTRUCTION
For a modern update, SYNLawn Chesapeake Bay provides homes in Virginia, Maryland, and Washington D.C. with high-quality indoor artificial grass to help reimagine interior spaces, including your home's game room. Our indoor synthetic turf stands out from typical surfaces like carpet or tile and can offer a more enjoyable area for your kids and pets … Read more