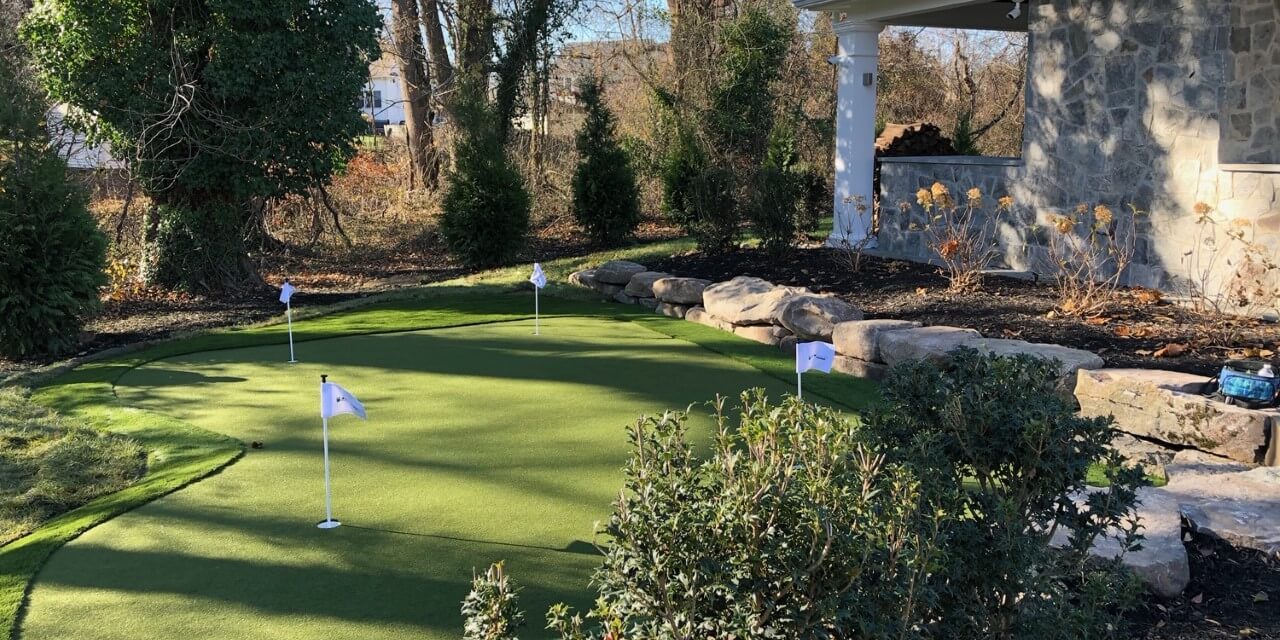 Artificial Grass in Chesapeake, VA
At SYNLawn Chesapeake Bay, our team can help take your Chesapeake, VA property to the next level with our versatile artificial grass products. We are the premier provider of artificial turf products and services, including artificial grass installation, offering an innovative and eco-friendly solution that gives you a lush, green, and maintenance-free yard all year round. Our impressive product range includes options for numerous applications, such as our residential artificial grass, commercial artificial grass, artificial dog and pet grass, artificial grass putting greens, and artificial playground turf. Details on these products and our services in Chesapeake, Virginia include the following:
Residential Artificial Grass
Forget about mowing, watering, or worrying about seasonal changes with residential artificial grass from us at SYNLawn Chesapeake Bay. Our products are designed to blend with the aesthetic of nearly any home in Chesapeake, VA, providing a more beautiful, robust, and safer alternative to traditional grass. Our artificial grass lawns are engineered for high foot traffic and built with turf technology to significantly reduce heat build-up. Overall, our artificial grass for homes is a durable and cost-effective solution that is easy to maintain while also being environmentally friendly.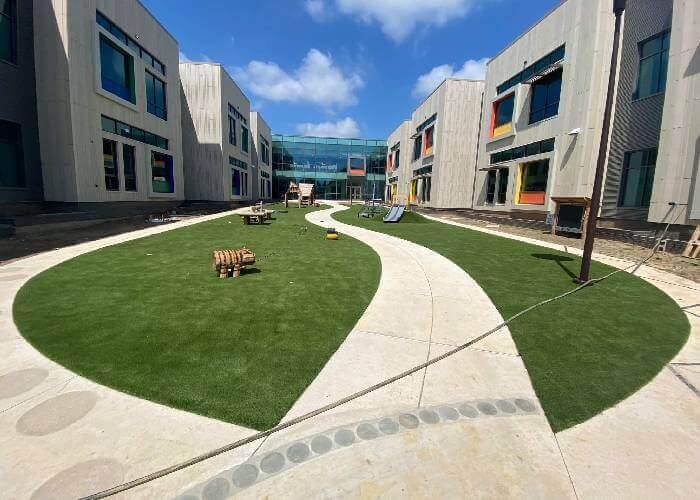 Commercial Artificial Grass
Businesses in Chesapeake, VA will appreciate the economical and aesthetic benefits of our commercial artificial grass. Its resilience and durability make it perfect for businesses like restaurants, hotels, and office complexes, where a stunning exterior can make a powerful first impression. Not only does it add to your commercial property's curb appeal, but it also helps save on water bills and reduce maintenance costs. Furthermore, our synthetic grass is composed of renewable resources, adding an eco-conscious touch to your property.
GET A FREE CONSULTATION
"*" indicates required fields
Artificial Dog and Pet Grass
Pets are a beloved part of families and communities. At SYNLawn Chesapeake Bay, our artificial dog and pet turf helps make sure they can enjoy the outdoors as much as we do. Made with our exclusive SuperYarn technology, our pet-friendly turf is antimicrobial, providing a safer, cleaner, and more durable surface for your furry friends to play or relax. These features help keep your yard fresher by eliminating unpleasant smells. We believe it is the perfect solution for pet owners seeking a hassle-free and safer outdoor space for their pets in Chesapeake, VA.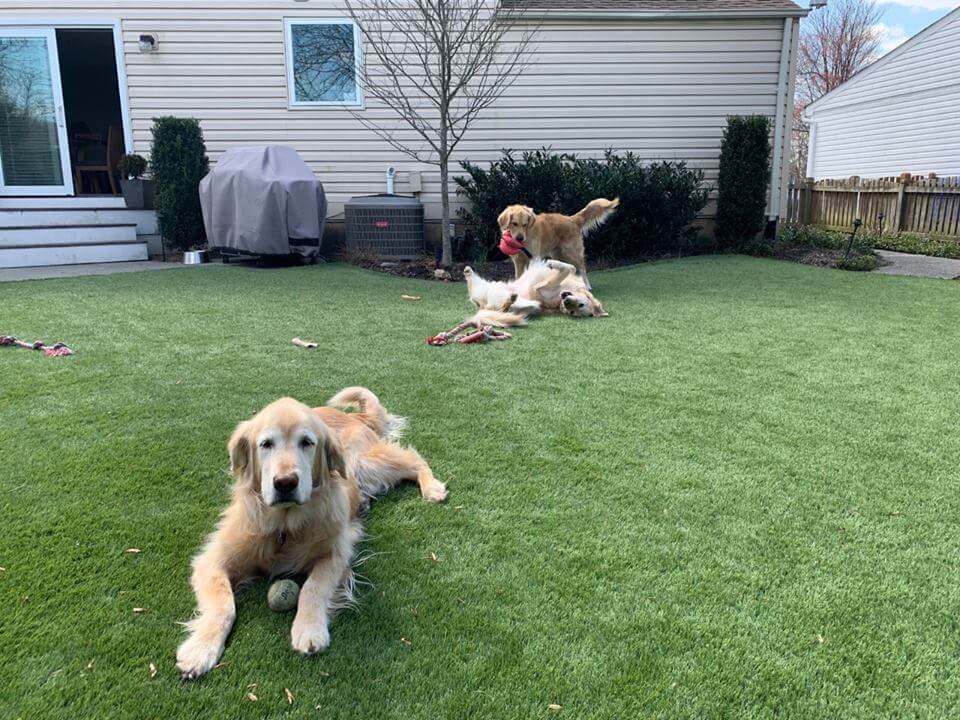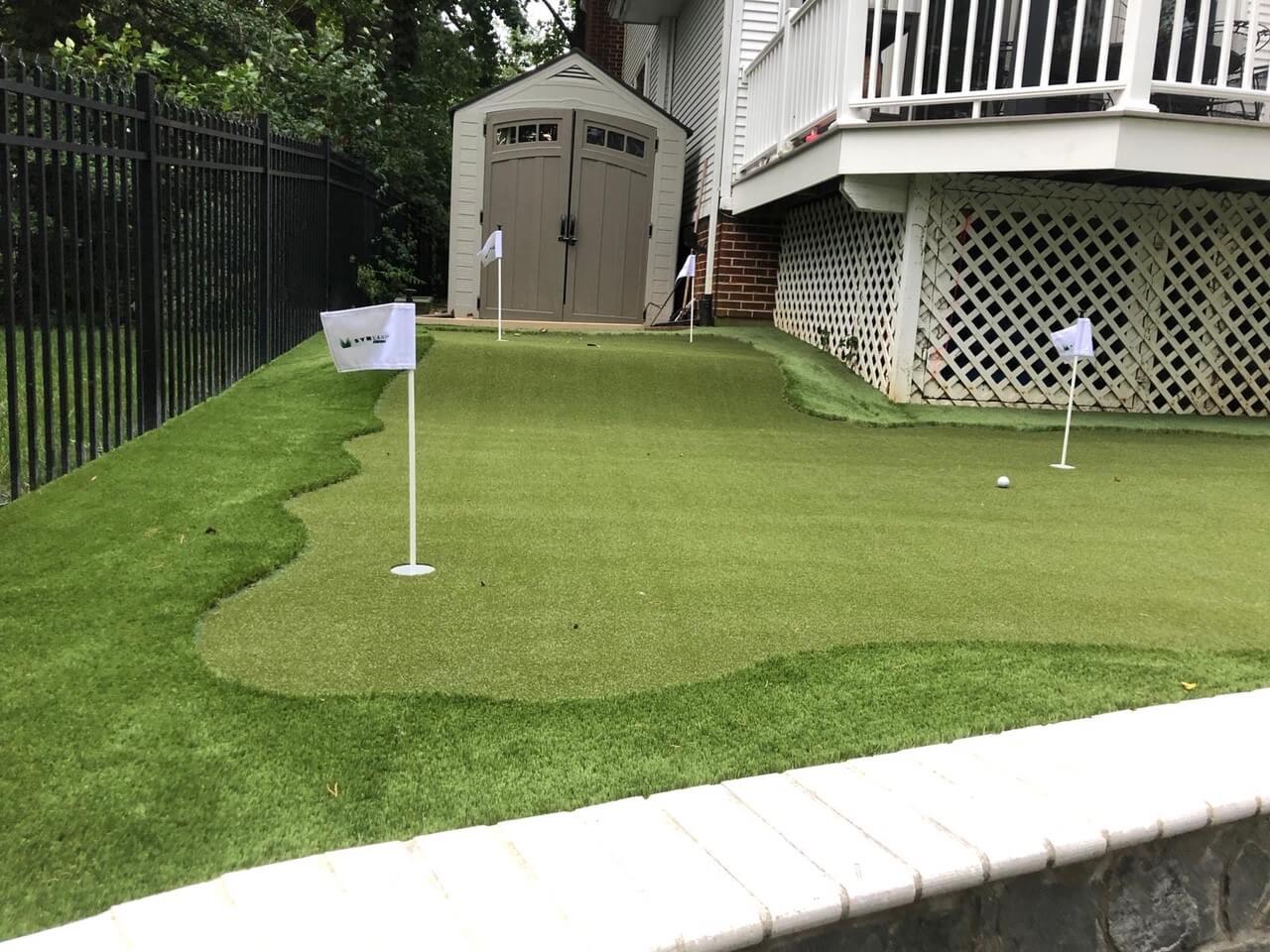 Artificial Grass Putting Greens
For golf enthusiasts, our artificial grass putting greens are a dream come true. Our synthetic golf greens emulate the look, feel, and performance of traditional grass greens, providing the perfect practice area for homes and businesses in Chesapeake, VA. Designed with consistent ball roll and controlled speed, our backyard and commercial putting greens offer a professional-level golf experience where you need them, including indoors. Plus, our artificial golf greens are weather-resistant and require little maintenance, making them a fantastic addition to any golf lover's property.
Artificial Playground Turf
Safety is paramount when it comes to spaces for children. At SYNLawn Chesapeake Bay, our artificial playground turf offers a cleaner, safer, and more comfortable play surface. Not only is it easy to clean, but our synthetic playground grass also ensures greater fall safety with its shock absorption. It also offers superior durability – even under extreme play and weather conditions. Plus, our playground turf is hypoallergenic, which means children can play with fewer worries of allergies or irritations.

Get a Free Quote for Artificial Grass in Chesapeake, VA Today!
At SYNLawn Chesapeake Bay, our suite of artificial grass products presents an innovative, aesthetically pleasing, and eco-friendly solution for homes and businesses in Chesapeake, VA. Our artificial turf options can not only help enhance the beauty of your property but also provide functional benefits like reduced maintenance, cost savings, and increased safety. Whether you are a homeowner, business owner, pet parent, golf enthusiast, or have playful kids, the team at SYNLawn Chesapeake Bay has an artificial grass solution to fit your needs.
Contact us today to learn more and get a free artificial grass quote!