If you are an avid golfer or golf enthusiast, SYNLawn Chesapeake Bay can help transform unused or underused space on your residential or commercial property in Maryland, Virginia, or Washington D.C. into a stunning synthetic putting green. We offer a wide range of advanced artificial golf greens, depending on your needs. Our synthetic putting greens are setting a new standard with sustainable, eco-friendly materials, gorgeous aesthetics, durability, and water conservation.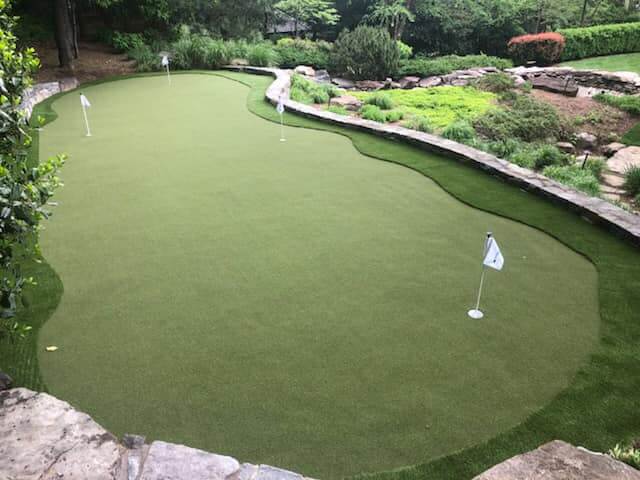 Golf is one of the most popular and respected sports around the world. Like any other sport, practice makes perfect, and it can be even easier to practice when you have the accessibility to play at your convenience. Having artificial golf greens for your personal use in your backyard or at your business can help revolutionize your gameplay and skill level. Now is a phenomenal time to install artificial golf greens to share with friends and clients alike.
At SYNLawn Chesapeake Bay, we are no strangers to artificial grass and golf green installations. The innovative types of artificial golf greens we offer include:
We also specialize in different styles of synthetic turf for golf, including the classic putting greens, fringe & collar, golf roughs, and tee lines. So no matter what level you are currently playing at, our team at SYNLawn Chesapeake Bay can help you find the golf system that fits your home or business.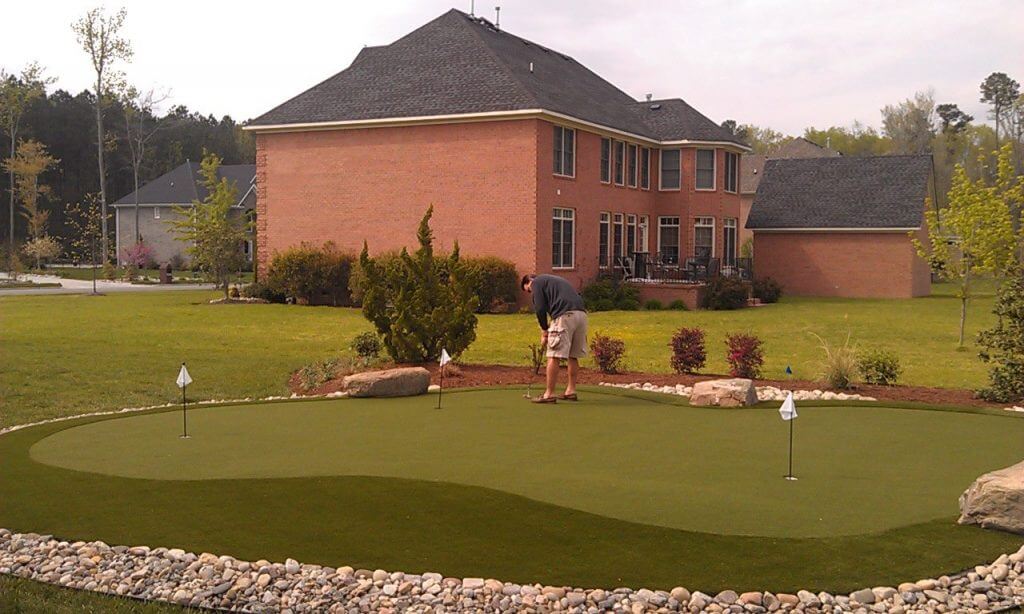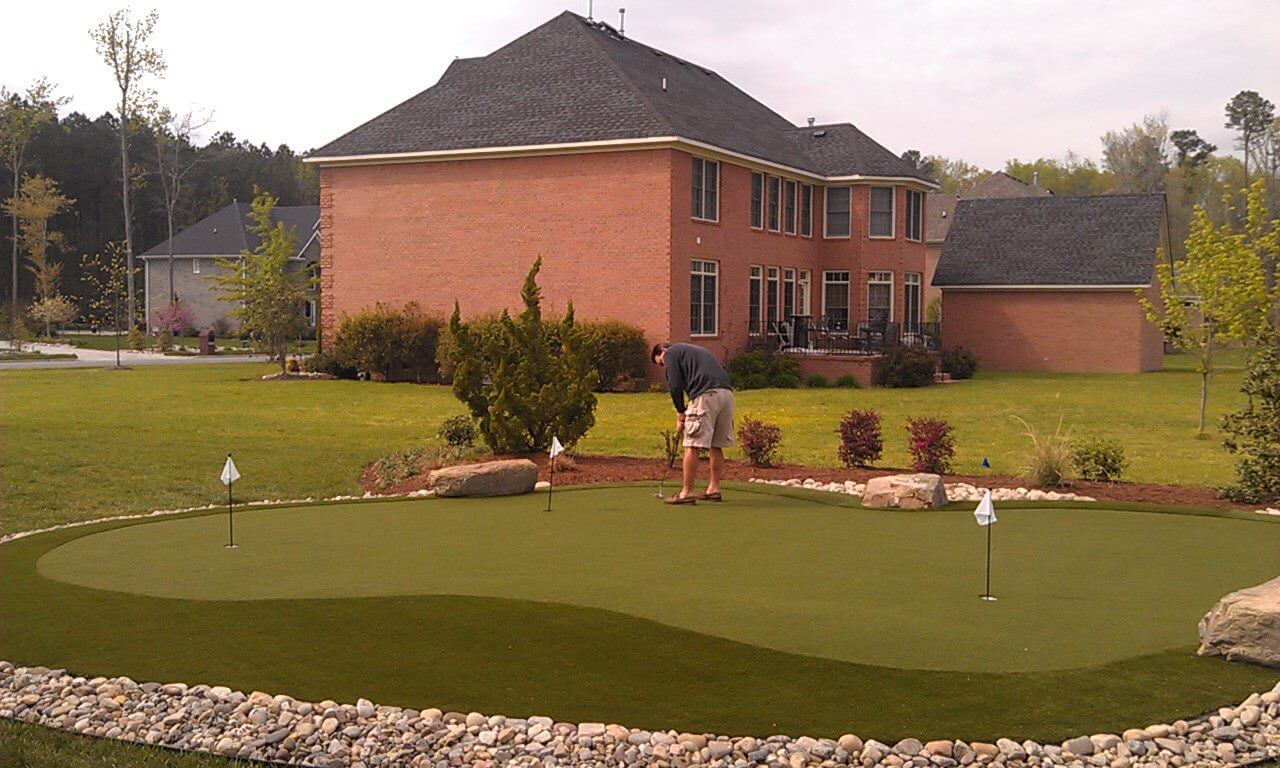 Play Like a Pro with SYNLawn Chesapeake Bay
SYNLawn Chesapeake Bay has been an industry leader in artificial grass putting green systems for over 20 years. Our revolutionary synthetic putting greens are world-class, and that is not by accident! We have partnered with well-known golf guru Dave Pelz to create professional-grade artificial golf greens that have superb ball roll, high durability, and fast drainage.
Our team professionally installs our Pelz specified golf systems to ensure the ideal golfing experience. They are trained on critical issues that affect your golf performance, such as advanced bases, landscape integration, precision seaming, and quality installation materials. Our installers also have ongoing training during their career to help ensure the quality of our artificial golf green installations.
Our highly advanced artificial golf greens products include:
Tee Strike
Precision Putt
Precision Putt Pro
Classic Pitch
SYNRange Pro
SYNPro 80
SYNTipede 343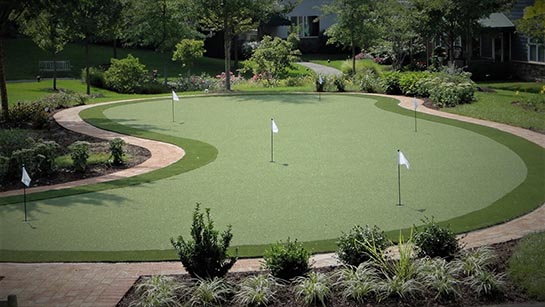 Benefits for a Better Experience
By choosing SYNLawn Chesapeake Bay, our customers get more than a gorgeous expanse of artificial golf greens. Decades of intense research and development have helped us create artificial grass that is far more advanced, convenient, and cost-effective than natural grass. With our American-made artificial turf, we have solved and addressed many common issues that occur when trying to keep up with natural golf surfaces. So get ready to say goodbye to constant maintenance and hello to more game time with our synthetic putting greens.
Benefits of our artificial turf products include: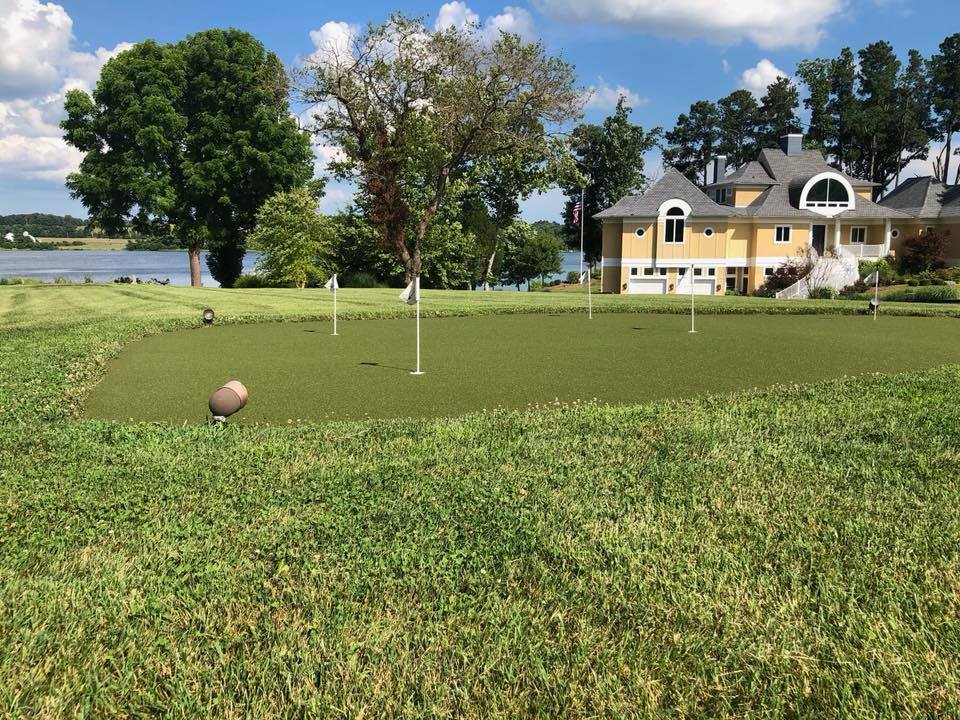 No mud
No watering
No mowing
No need for harsh chemicals
No grass allergens
Inhospitable to bugs and rodents
Plant-based backing
Recyclable
Environmentally friendly
Those key features are just the beginning of what synthetic turf and artificial golf greens from SYNLawn Chesapeake Bay can offer you! Our artificial turf also drains quickly, resists weather and foot traffic, and stays cooler to the touch – even in consistent, warm sunshine. With our synthetic grass, you can have a superior backyard or commercial putting green that requires little maintenance and gives you the opportunity to improve your game.
Plan Your Dream Artificial Golf Greens Today
Artificial golf greens from SYNLawn Chesapeake Bay provide golfers in Maryland, Virginia, and Washington D.C. with superior playing surfaces for their backyards and businesses. Our high-quality synthetic putting green turf was developed with the help of golf experts like Dave Pelz, making it an ideal surface to play or practice on. Our artificial golf greens also offer our customers numerous benefits, including consistently attractive indoor or outdoor green spaces, low maintenance, durability, and more.
Contact us today to learn more about our artificial golf greens, get a free quote, or start planning the residential or commercial synthetic putting green of your dreams!