You and your pets deserve a gorgeous, cleaner, and cooler area to play, so SYNLawn Chesapeake Bay provides high-quality artificial pet turf in Maryland, Washington D.C., and Virginia. Sadly, many people think they cannot have the lawn of their dreams while having a pet, like a dog, but we are here to tell you that dream can be a reality. Our pet turf is incredibly practical for your furry friends and aesthetically pleasing!
When you work with SYNLawn Chesapeake Bay, our highly trained staff will help you design a specialized pet turf system to suit you and your pet or pets' unique needs. Our process starts with selecting the exact type of turf as well as the ideal installation method. Whether this is for a home, an apartment complex, or even a park or other commercial space, SYNLawn Chesapeake Bay has a variety of options available to help address a number of needs.
Our innovative line of artificial pet grass includes:
Pet Platinum – Top-selling, highly durable pet turf for pet owners & commercial spaces
Pet Premium – Sturdy pet turf ideal for nearly any size animal for play & agility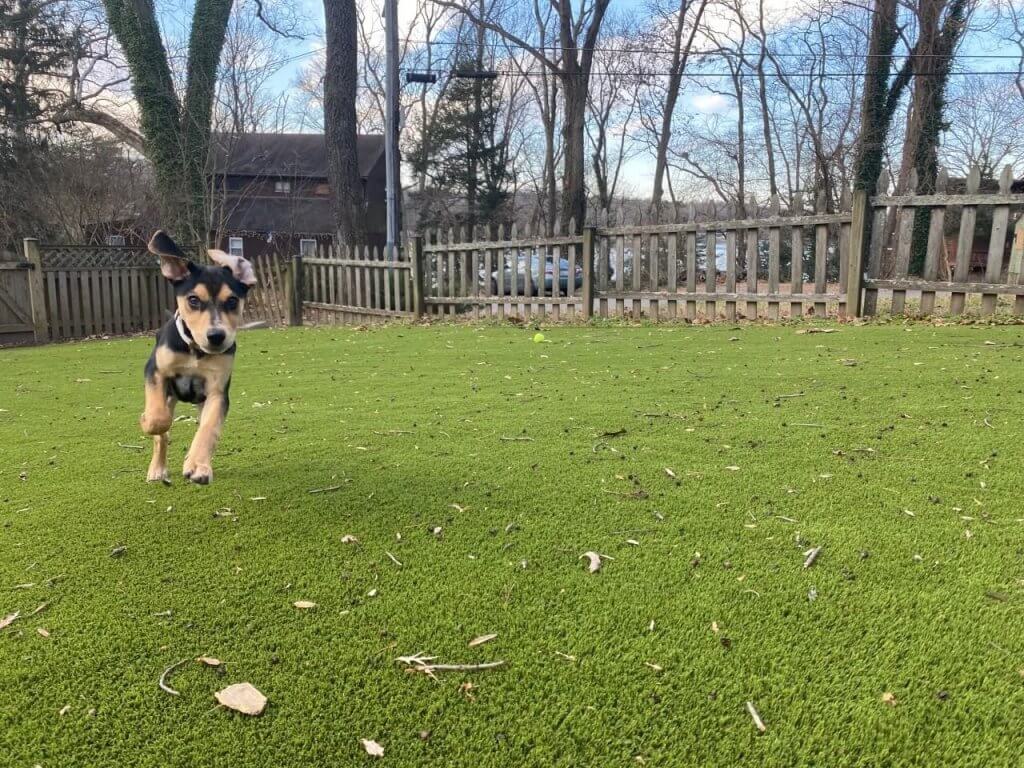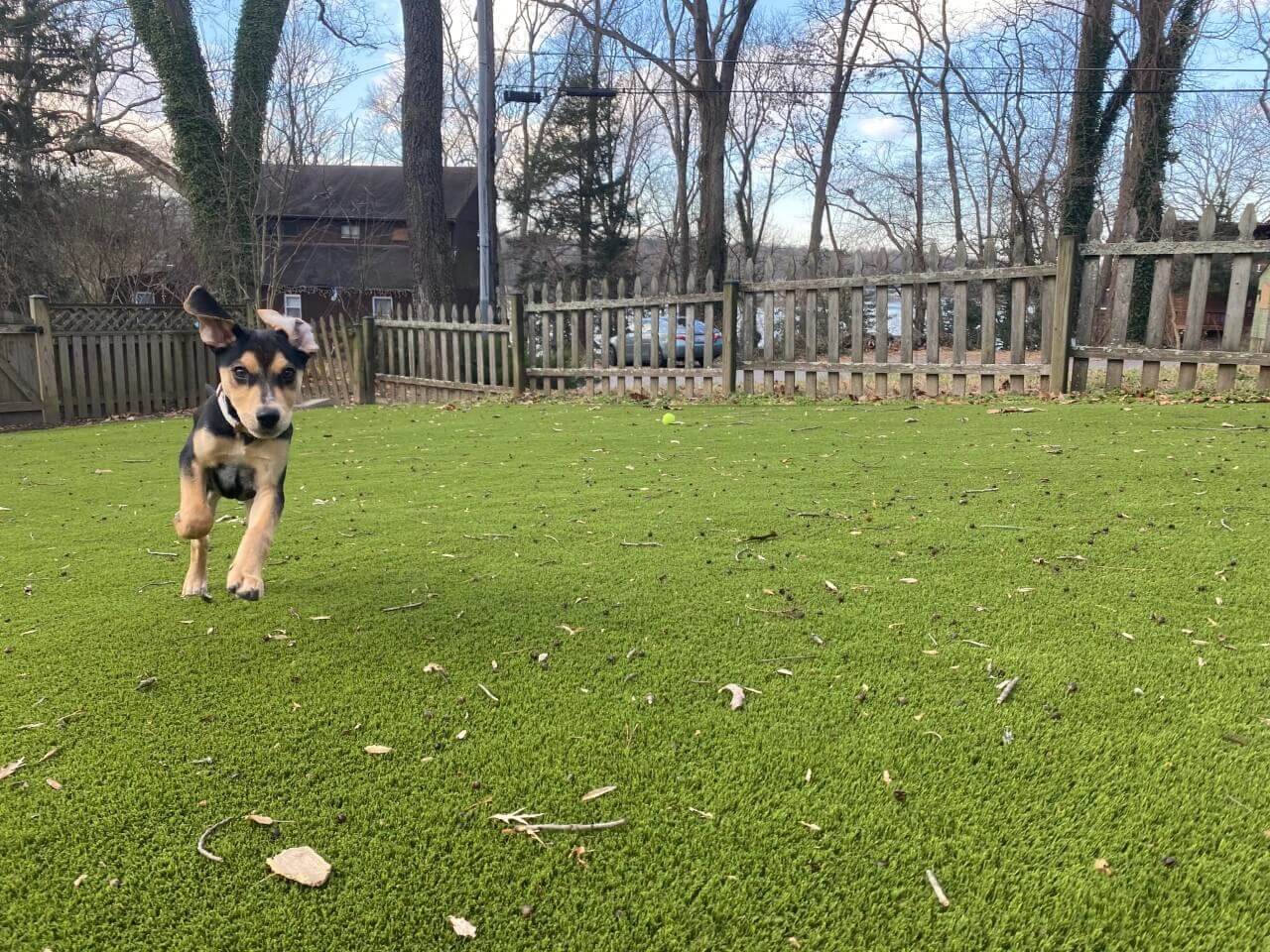 With either of these beautiful options, your pet will be delighted with a vibrant green space where they can run, play, and sunbathe day after day. However, our synthetic pet turf benefits pet owners too. You too can enjoy playing with them and viewing our ultra-realistic pet turf with its natural movement and ethereal dimensions of color. With products and assistance from SYNLawn Chesapeake Bay, you can transform your yard into a magnificent space for you and your pets to enjoy.
Your Pets Will Love SYNLawn Chesapeake Bay's Artificial Grass
If you are considering switching to artificial dog grass for your property, the high-quality turf from SYNLawn Chesapeake Bay is the logical choice. We have almost four decades of experience and thousands of installations in Maryland, Virginia, and Washington D.C. under our belt. Combine that with our industry-leading artificial turf products, and you have one fantastic investment on your hands.
With SYNLawn Chesapeake Bay's advanced technologies and unmatched benefits, you and your pets can thrive while enjoying our artificial pet grass. Don't settle for less when you can install high-quality dog turf from SYNLawn for your pets. Whether you desire a small synthetic dog run or a sizable play and agility area, you will be astounded at how well our artificial turf performs while staying perpetually well-manicured.
Benefits for Pets
There are so many incredible benefits with SYNLawn Chesapeake Bay's pet turf that you don't want to miss. With it, you can finally say goodbye to the countless problems that pet owners run into with natural grass. For example, are you tired of muddy paw prints on the carpet or unsightly holes from digging? Our artificial pet grass creates no mud and resists digging. As a result, you can have a functional yet luxurious lawn.
Some of the other key benefits of owning artificial pet grass include:
Easy-to-clean
Quick draining
Greater odor control
No watering
Stays cooler
Non-toxic
Recyclable
Inhospitable to pests like bugs and rodents
No grass allergens
Low maintenance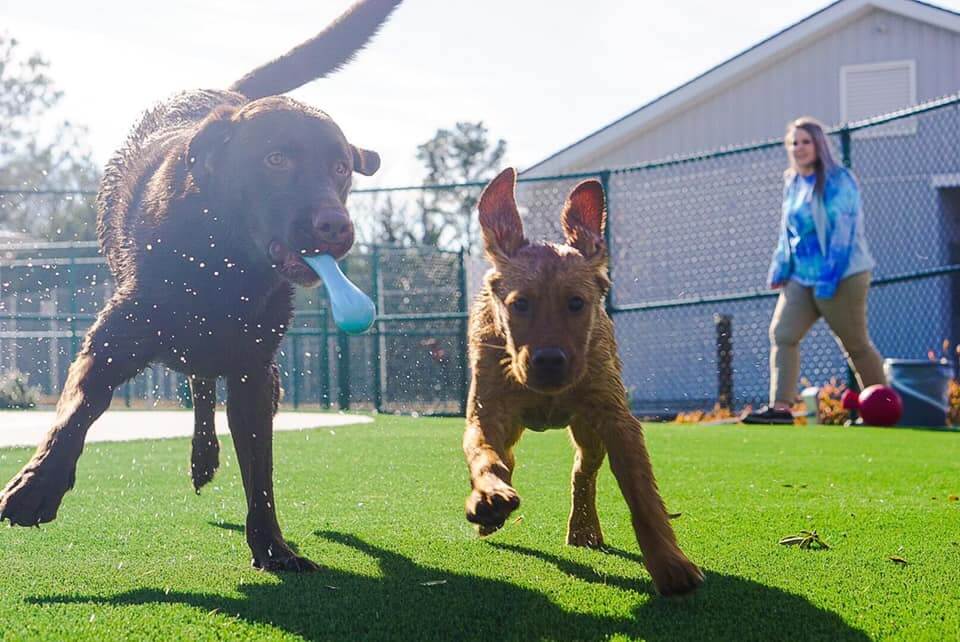 Synthetic pet turf from SYNLawn Chesapeake Bay offers our customers and their pets considerable advantages over natural grass. Unlike many other kinds of surfaces, our pet turf is incredibly easy to clean and stays cooler – even in warm weather and consistent sunshine. As a result, it is safer and cleaner for pets and people to enjoy.
Get Started Today
Artificial pet grass from SYNLawn Chesapeake Bay creates ideal play areas for pets and people to enjoy in Maryland, Washington D.C., and Virginia. Our synthetic pet turf can help transform indoor or outdoor areas, making them gorgeous to admire while also providing several other benefits. It is low maintenance, durable, easy to clean, and stays cooler to the touch, which helps create an inviting environment for pets and pet owners to play or relax.
Contact us today to learn more about our artificial pet grass or get a free quote!