Dogs are a part of the family at SYNLawn Chesapeake Bay, and that is one of the many reasons why we are helping pet businesses in Maryland, Virginia, and Washington D.C. improve their play yards with our quality artificial pet grass. Your doggy daycare or boarding facility will stand out when you have an extensive play space that is suitable for all of your furry clients. By installing quality synthetic dog turf, pet parents will be inspired to keep returning to your business with their precious pups! That's because pet parents love spoiling their canine companions, which is just one of the many reasons why they take their pups to doggy daycare. So help earn the trust of clients by offering their pets a gentle, fun, and clean space for them to play!
Benefits of Artificial Pet Grass
Pet boarding facilities and doggy daycares in Chesapeake Bay can take advantage of the countless benefits our artificial dog grass has to offer.
Although our artificial grass boasts several incredible advantages for pet businesses, we have highlighted some of the most notable:
Exceptional drainage rate, so water and other liquids won't pool on the turf.
Recyclable and made in the USA.
Customization to help create the perfect pet yard for your business.
Low maintenance and non-toxic.
Save time, water, and energy!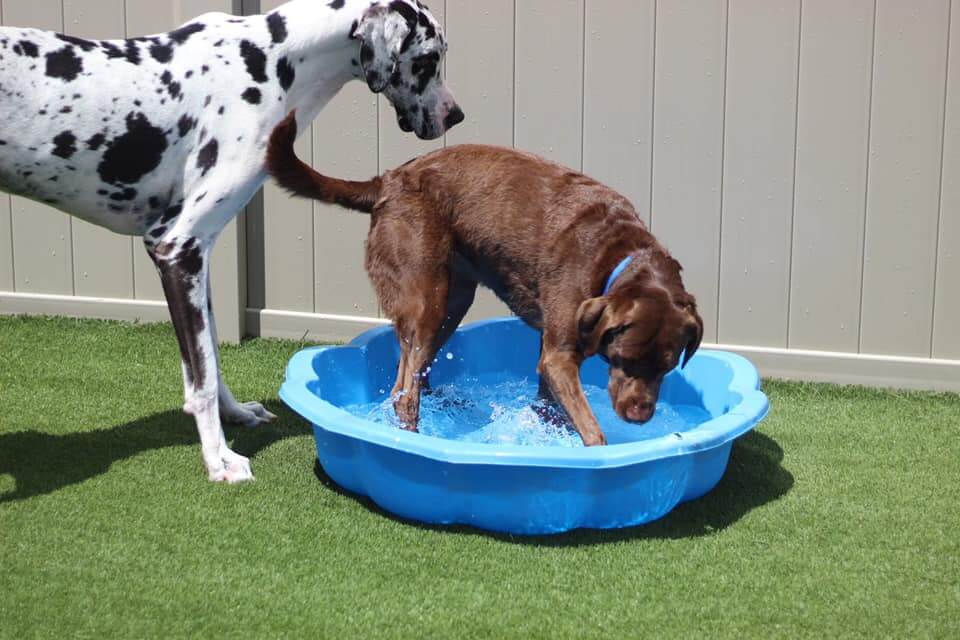 Further details on the benefits of installing artificial pet turf from SYNLawn Chesapeake Bay include:
Creates a Cleaner & Cooler Environment for Dogs
Unlike ordinary natural grass, artificial pet turf is easy to clean and maintain. At SYNLawn Chesapeake Bay, our artificial grass has outstanding liquid drainage rates. This allows it to drain and dry quickly after a rainstorm or being hosed down. In doing so, issues like muddy paws and pools of water in a play yard can become issues of the past! So say goodbye to grass stains, muddy paws, and puddles by ordering and installing artificial pet grass.
Provides a Safe Space for Play
If you're a pet business owner, you understand that safety is a top priority when caring for animals. Fortunately, synthetic pet turf can help keep pets safer while playing. First, our artificial pet grass is equipped with heat reduction technology, so it remains cooler in warm, sunny months to help avoid burnt paws. Second, while many escape artist pups can quickly dig through the ground of natural grass play yards, the resilience of our artificial dog grass can help reduce that risk! Plus, since our pet turf is resistant to digging, it helps eliminate the possibilities for divots and holes to develop, helping prevent trip hazards that could potentially injure both humans and animals.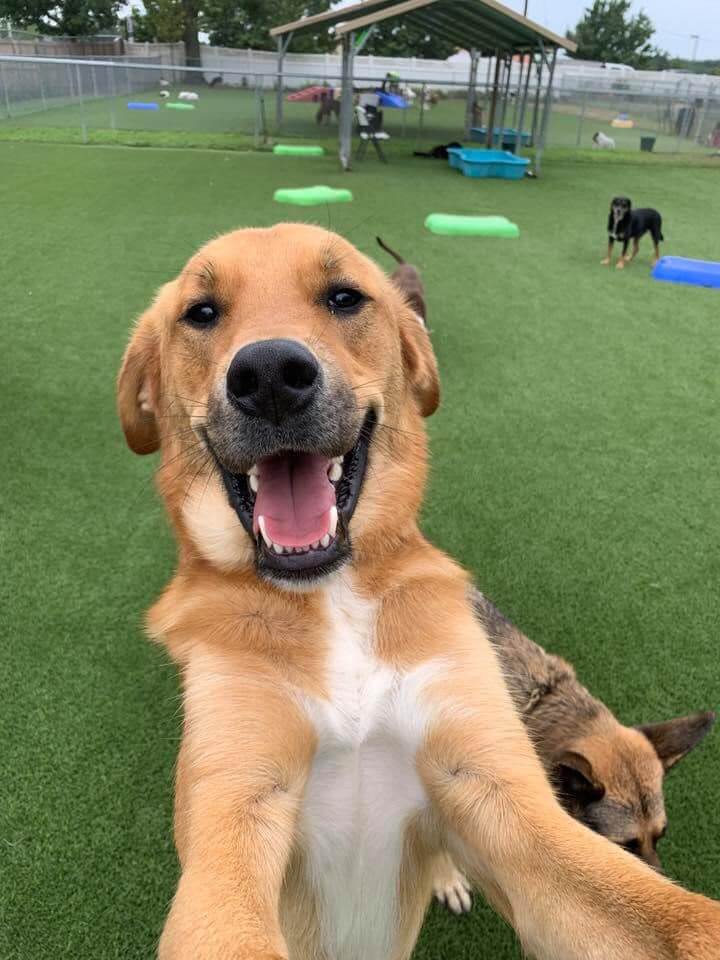 Virtually Zero Maintenance
Artificial grass and pet turf from SYNLawn Chesapeake Bay do not require any mowing or chemical treatments. This means that it is a safer, more eco-friendly, and lower maintenance option than natural grass and many other surfacing materials. We understand that pet businesses have busy schedules, and lawn maintenance is the last chore they want to worry about! Thankfully, our synthetic pet turf only needs a brief rinse down with the hose to clean it off and nothing more! This lack of maintenance with our artificial pet grass also means that business owners can save money throughout the life of the turf. Starting and running a pet business can be expensive, but with our pet turf, you'll see a return on your investment over time.
Additional Uses for Artificial Pet Grass
At SYNLawn Chesapeake Bay, our artificial pet grass makes an excellent addition to any business that welcomes pets in Maryland, Washington D.C., and Virginia. It is ideal for creating inviting, easy-to-clean play yards. However, you can also use it to outfit the front of your business with a pet-friendly, attractive outdoor aesthetic. In either scenario, our artificial turf is an exceptional way to entice new clients and impress them when they show up to drop their pet off at your place of business.
Our expert installers can add synthetic pet grass to nearly any home or business for dogs to use. This includes retail stores, restaurants, hotels, apartment complexes, and more! At SYNLawn Chesapeake Bay, we have a wide range of artificial grass options for a plethora of applications, including synthetic dog runs and even putting greens, and our professionals are happy to explore those with you.
Get a Free Quote!
At SYNLawn Chesapeake Bay, we care about dogs and pets the same way you do, so we provide artificial pet grass for play yards at doggy daycares and other pet businesses in Maryland, Washington D.C., and Virginia. We pride ourselves on delivering high-quality artificial grass options that offer pets, their owners, and pet businesses with numerous benefits. Contact us today to learn more or receive a free synthetic pet turf quote!