We at SYNLawn Chesapeake Bay appreciate our clients and also love sharing with you the artificial grass projects we have designed and installed. Browse our gallery for to view more of our projects.
Todays post is a recent project we installed for Breakthrough K-9 Training located in Richmond, Virginia. Owners Stephanie and Lenny, specialize in obedience and behavioral training for dogs and have over 10 years of experience. They provide boarding and training packages for puppies, aggressive dogs, special needs and so much more at their center in Virginia.
The SYNLawn Chesapeake Bay team installed our SYNTipede243 product on a little over 2500 SF to make a beautiful outdoor training space for the dogs and handlers to enjoy! The team graded over a foot of dirt, laid down CR6 and stone dust, installed our perimeter boards and installed our SYNLawn product, Envirofill is the top dressing we used for this project.
Stephanie and Lenny were so nice and wonderful to work with, even when we ran into a small issue and the incorrect turf was delivered. They were extremely patient through the process of getting a new roll sent out and even all the rain that week! Luckily, they loved their new outdoor training dog grass area so much that they had us quote another area at the training center before we left the site! These projects are some of our favorites because we love supporting the dog community and of course, the dogs love playing and running around on our turf! Another plus is no muddy paws and it's so easy to clean and maintain.
Did you know SYNLawn Chesapeake Bay offers a $250.00 discount for having a rescue pet?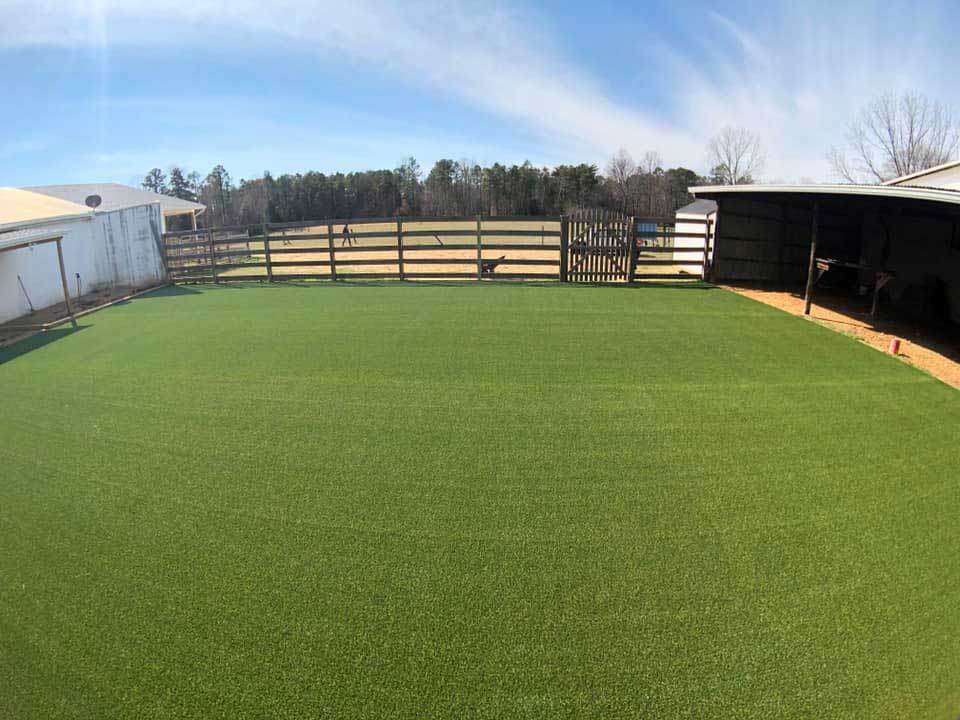 SYNLawn Chesapeake Bay is STC certified and services commercial and residential projects in the Maryland, D.C, and Virginia areas.
For more information about our SYNLawn products and installation, please call 443-376-6787 or email us for a free consultation.
And feel free to visit Breakthrough K-9 Trainings website if you are ever looking for an amazing dog trainer in the Virginia area.