At SYNLawn Chesapeake Bay, we have recently installed artificial golf turf for a brand new, hip indoor mini golf place called Swingers, which has just opened its first US location in Washington, DC. And their patrons are amazed and are thoroughly enjoying themselves at the mini golf course.
This was a custom-designed and professionally installed mini golf course. For this build, we worked on two courses simultaneously using our Classic Putt product for the golf course and the SYNTipede243 product for the walkways. We expertly completed our work while adhering to our strict safety protocols while under a quick timeline for their grand opening, and we are very proud of the results.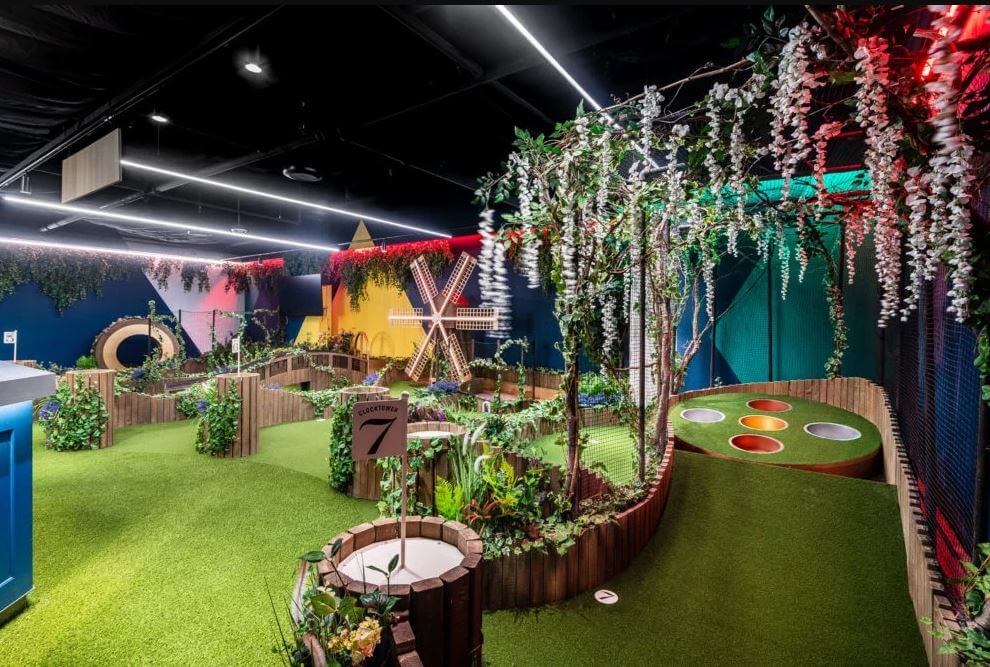 About Our Mini-Golf Course Construction With Artificial Turf
At SYNLawn Chesapeake Bay, we realize the importance of how a mini golf course looks, as the look alone can have a dramatic impact on overall gross revenue. When it comes to mini golf, it is important to not only attract customers but to retain them as well. If a mini-golf course consists simply of some bushes, drab grass, and a tacky windmill, it's unlikely to generate much interest. Essentially, if the design of the course is bland and the play is boring, a mini golf course can wind up actually losing money.
At SYNLawn Chesapeake Bay, we help to create captivating mini golf courses, such as with our teaming up with Swingers, with the expert installation of our artificial golf grass. Our customized synthetic golf turf helps create an eye-catching design and can accommodate a variety of features, such as meandering streams, reflective ponds, granite boulders, changing elevations, and more. Whatever you can imagine in terms of an ideal mini golf course that captivates people, we can help to make that a reality.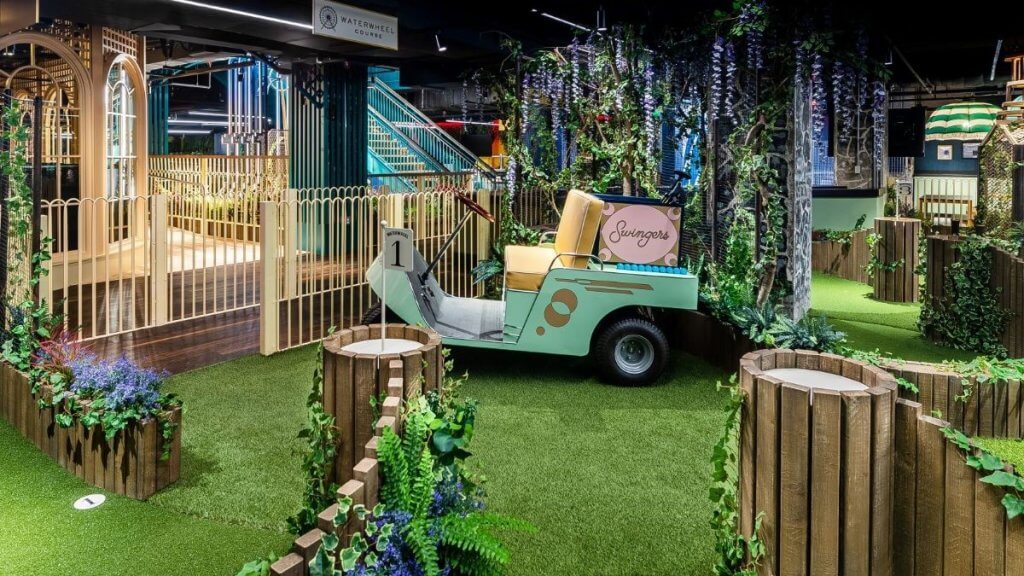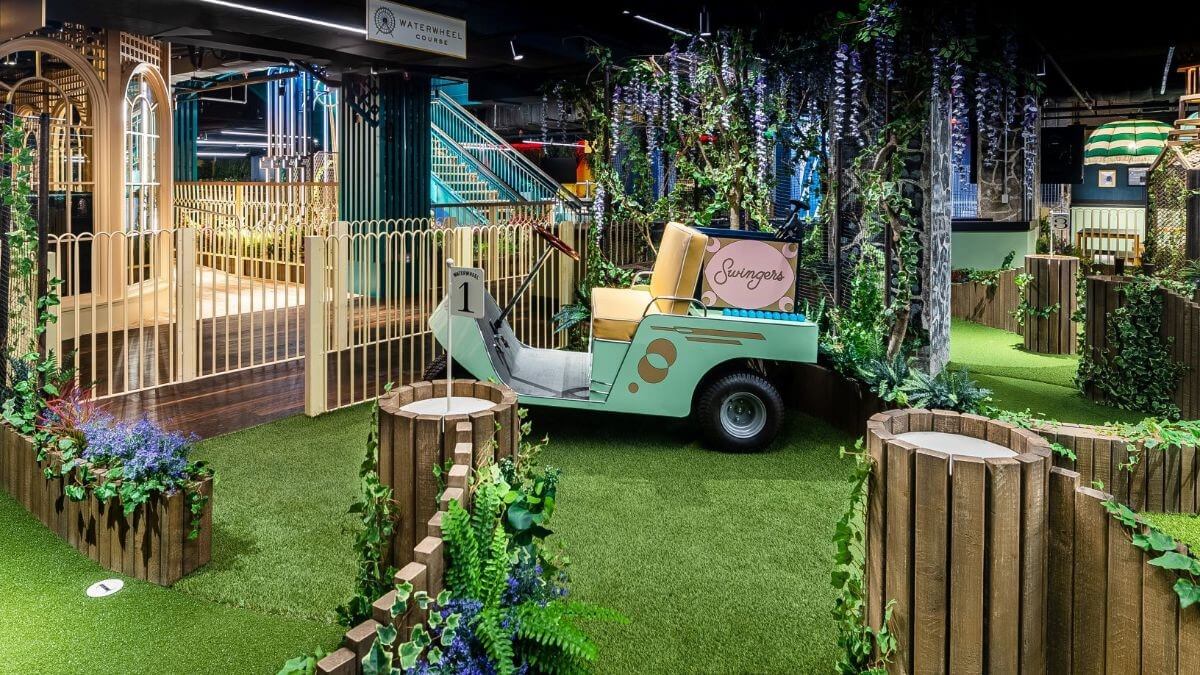 Mini Golf Turf Construction
Our synthetic mini golf turf is all made at our own factory, with nothing being outsourced. Since we produce everything here in the US and have full control over the production process, our final product is of the highest quality you can find on the market. Because we control the whole process, we can implement unmatched quality control on everything we create.
Not only does our mini golf turf look luxurious and beautiful, it is also constructed with many other helpful features. It is built to be easy to clean, have low maintenance, and be highly durable. All of these features are quite useful in terms of keeping costs down, alleviating stress, and ensuring the course can handle heavy foot traffic and use.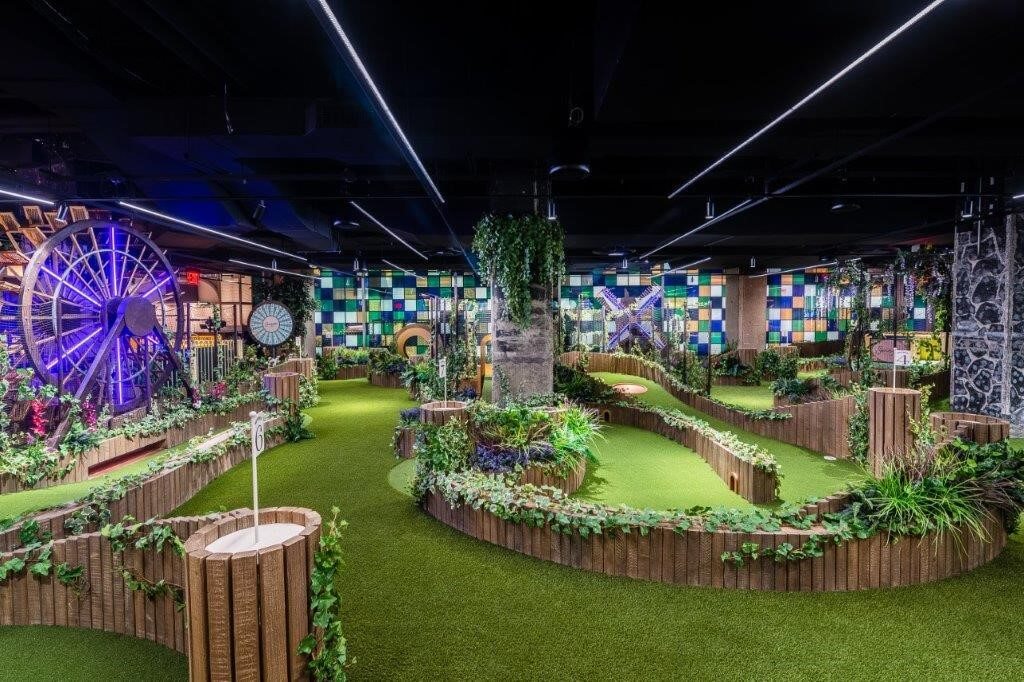 Mini Golf Turf Installation
When working with you to install your customized mini golf turf for your course, we carefully consult with you to determine your exact needs. We are experts in our industry, and we will work with you every step of the way so you are aware of exactly what is going on. We have been installing artificial turf solutions for all sorts of applications for decades, and we guarantee your satisfaction.
Consult With Us About Your Ideal Mini Golf Course Turf
It's critical that you get the best artificial golf turf possible for your course, as you want it to look good and be highly durable. With luxurious and eye-catching mini golf turf, you can attract families to your business, people getting together for corporate parties, and even couples going out together on a date.
Thoroughly impress them, and positive word of mouth and repeat business can make the profits of your mini golf business surge. In addition to mini golf, we can also install a professional putting green in your very own backyard.
Simply reach out to us here for a free consultation, and we will answer any questions you have. We look forward to working with you.